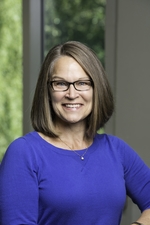 Contact Information
Phone: (703) 993-2139
Fax: (703) 993-2013
George Mason University
Fairfax Campus
Thompson Hall 1801
4400 University Dr.
MS 4B3
Fairfax, VA 22030
Profile
Dr. Groth is an Assistant Professor in the Graduate School of Education. She joined the faculty in January 2000 as a member of the Elementary Education and Literacy Program areas. In addition to teaching literacy courses, Dr. Groth is the University Facilitator for the Professional Development School at Annandale Terrace Elementary.
Research Interests
Young children's narrative competence
Early literacy instruction
Comprehensive literacy programs
Recent Publications
Fields, M.V., Groth, L.A., Spangler, K. (2004). Let's Begin Reading Right, 5th edition. Upper Saddle River, NJ: Merrill Prentice Hall.