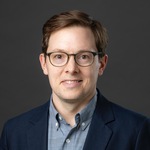 Contact Information
Phone: (703) 993-2381
Fax: (703) 993-4370
Email: dfergu2 (@gmu.edu)
George Mason University
Fairfax Campus
Thompson Hall 1102
4400 University Dr.
MS 4C2
Fairfax, VA 22030
Profile
Daniel E. Ferguson is an assistant professor of Early Childhood Education at the College of Education and Human Development at George Mason University. He earned his Doctorate in Education in Curriculum and Teaching at Teachers College, Columbia University in New York City. Prior to his doctoral work, he taught for over ten years in a variety of classrooms, including Kindergarten, 3rd, 4th, and high school debate in Birmingham, Alabama, and preschools in Hiroshima, Japan and New York City. He earned a Bachelors degree in Philosophy at Birmingham-Southern College in Alabama, and a Masters in Early Childhood and Elementary Education at the University of Alabama at Birmingham.
His dissertation, titled The Materiality of Early Literacy Curriculum: A Case Study of One Kindergarten Classroom in New York City, examines literacy curriculum through attending to the material organization of one classroom—the stacks in a closet, shelves, bulletin boards and book bins—to expose curriculum as a network effect actively produced through actors both local and distant, human and nonhuman. His writing has appeared in journals such as the Journal of Early Childhood Literacy and International Journal of Early Childhood, as well as in Rethinking Schools.
Research Interests
Dr. Ferguson's research interests have primarily focused on literacy curriculum and materials in early childhood spaces, applying critical and material theories to those interests.
Recent Publications
Dernikos, B. P., Ferguson, D. E., & Siegel, M. (2019). The Possibilities for "Humanizing" Posthumanist Inquiries: An Intra-Active Conversation. Cultural Studies ↔ Critical Methodologies.
Ferguson, D. E. (2015). Book review: Materializing literacies in communities: The uses of literacy revisited. Journal of Early Childhood Literacy, December 27, 2015.
Ferguson, D. E. & Kuby, C. R. (2015). Curricular, relational and physical spaces in the Japanese hoikuen. International Journal of Early Childhood, 47(3), 403-421.
Ferguson, D. E. (2014). Martin Luther King Jr. and the common core: A critical reading of close reading. Rethinking Schools 28(2).
Ferguson, D. E., Kato, Y., & Nagahiro M. (2012). The miscues and eye movements of Japanese beginning readers. In K. Goodman, S. Wang, M. Iventosch, & Y. Goodman (Eds.), Reading in Asian Languages: Making Sense of Written Language in Chinese, Japanese, and Korean (pp. 127-143). New York: Routledge.
Ferguson, D. E. (2011). Shared reading in the hoikuen: applying whole language theory and practice to world language learning in Japanese nursery schools. In D. Schwarzer, M. Petrón, & C. Luke (Eds.), Research Informing Practice—Practice Informing Research: Innovative Teaching Methodologies for World Language Teachers (p. 105-123). Charlotte, NC: Information Age Publishing Inc.
Schwarzer, D. & Ferguson, D. E. (2007). DIBELS and English Language Learners in the United States: An Analysis of the "Scientifically Based Research" Behind the Test. TESOL Quarterly Newsletter, Bilingual Education Interest Section.