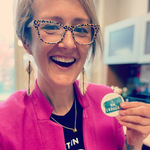 Dr. Mandy K. Bean
(she/her/hers)
PhD, University of North Carolina at Chapel Hill
Associate Professor
Elementary Education PK-6

Contact Information
Phone: (703) 993-5253
Fax: (703) 993-2013
Email: abean5 (@gmu.edu)
George Mason University
Fairfax Campus
Thompson Hall 1406
4400 University Dr.
MS 4B4
Fairfax, VA 22030
Profile
A former elementary school teacher for 14 years in Virginia and North Carolina, I am currently an Associate Professor of Education at George Mason University. My main focus is preparing students to become Elementary Education teachers. I teach courses on K-6 Social Studies methods, Fine Arts integration, Child Development, Foundations of Education, and Curriculum and Management, among many others. I am also Senior Co-Editor of School-University Partnerships (SUP), a research journal of the National Association for Professional Development.
Research Interests
Elementary Curriculum and Methods
Social Studies Education
Project Based Learning
Arts Integration
Professional Development Schools
Recent Publications
Parker, A. K., Parsons, S., Groth, L., Bean, A., Slattery, C. (2020). George Mason University's Elementary Education PDS Program: Structures for shared governance, reflection and collaboration. In E. Garin and R. Burns (Eds.) The NAPDS Nine Essentials in Action: Cases of Professional Development Schools. Charlotte, NC: Information Age Publishing.
Glazier, J., & Bean, A. (2018). The promise of experiential education in teacher education: transforming teacher beliefs and practices. Teaching Education, 1-17.