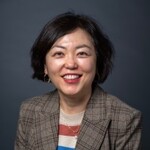 Contact Information
Phone: (703) 993-7194
Fax: (703) 993-3988
Email: mparka (@gmu.edu)
George Mason University
Fairfax Campus
Krug Hall 211E
4400 University Dr.
MS 4D2
Fairfax, VA 22030
Profile
Dr. Park is an Associate Professor of Tourism and Events Management. Dr. Park's research interests include sharing economy and overtourism, destination management, tourism development and growth, social impacts of tourism, and visitor experience. Partnering with various agencies nationally and internationally, she has involved with diverse research projects and produced over 80 publications in a combination of journal articles, book chapters, professional presentations and conference proceedings, and technical reports. She has worked on a series of collaborative research with the National Park Service on the National Mall and Memorial Parks Management Plan. Since 2012, she has taken several administrative positions in the Provost Office including Acting Assistant Vice President for International Campus Operations and Dean of Administration at George Mason University Korea - Mason's international campus in Songdo, South Korea. With her administrative experience, her research interest has expanded to the area of international education and internationalization of higher institutions.
Before she joins George Mason University, she served as a research manager with the Maryland Office of Tourism Development (OTD) under the Department of Business and Economic Development where she was involved in and managed a variety of research projects, and developed a number of research analyses and technical reports.
Research Interests
Destination management and visitor experience
The sharing economy and overtourism
Tourism development and growth issues in rural communities
Social and cultural impacts of tourism
Cultural and heritage tourism
Alternative tourism
Globalization and Higher Education
International Education
Recent Publications
Jang, H., & Park, M. (2020). Social media, media, and urban transformation in the context of overtourism. International Journal of Tourism Cities, Vol. 6 No. 1, pp. 233-260.
Park, M. (2019). The sharing economy, regulations, and the role of local government. International Journal of Tourism Cities, Vol. 6 No. 1, pp. 158-174.
Daniels, M., Harmon L., Barrow M., Vese, R., & Brayley R.E., Park, M. (2019). Honor Flight: Recognition of preeminent-mature tourists. Annals of Tourism Research, 74(January): 95-107.
Park, M., Derrien, M., Geczi, E., & Stolowski, P.A. (2018). Grappling with Growth: Perceptions of development and preservation in faster- and slower-growing amenity communities. Society & Natural Resources. https://doi.org/10.1080/08941920.2018.1501527
Cicchetti, K., & Park, M. (2018). Student affairs and offshore branch campuses: A case study of practitioner experiences. Journal of College Student Development, 59 (2).
Daniels, M., Harmon L., Barrow M., Vese, R., Park, M., & Brayley R.E. (2018). Spatial dynamics of tour bus transport within urban destinations. Tourism Management, 64 (February): 129-141.
Daniels, M., Harmon L., Barrow M., Park, M., & Brayley R.E., & Vese, R. (2015). Heritage tourism within a capital city: Symbolism and dissonance. Tourism Review International, 19: 1-18.
Schiller, A., & Park, M. (2014). The international Campus as prototype for international collaboration: South Koreas Incheon Global Campus. Global Partners in Education Journal, 4(1): 33-40.
Daniels, M. J., Park, M., Harmon, L. & Brayley, R. (2013). Bridging risk management perceptions and processes: The case of the National Mall & Memorial Parks. International Journal of Culture, Tourism, and Hospitality Research, 7(2).
Jang, E., Park, M., Park, H. (2012). Tourist's appleal type for international tourism promotional photos of Korea. Korea Journal of Tourism and Hospitality Research: Korea Tourism Research Association, 26(6): 23-38.
Park, M., & Oh, C-O. (2011). Exploring influential factors that explain the probability of visiting a destination: The case of state travel information inquiry groups. Tourism Analysis, 16 (6): 693-700.
Harmon, L., Daniels, M. J., Park, M., & Brayley, R. (2011). Is a nations front yard becoming a dumping ground? A critical analysis of greenspace within the United States National Mall & Memorial Parks. Journal of Tourism and Leisure Studies, 17 (2): 269-291.
Park, M., & Stokowski, P.A. (2011). Casino gaming and crime: Comparisons among gaming counties and other tourism places. Journal of Travel Research, 50 (3): 289-302.
Park, J., Lee, G., & Park, M. (2011). Service quality dimensions perceived by film festival Visitors. Event Management, 15: 49 - 61.
Park, M., Daniels, M., Brayley, R., & Harmon, L. (2010). An analysis of service provision and visitor impacts using participant observation and photographic documentation: The National Cherry Blossom Festival. Event Management, 14 (2):167-182.
Park, M., Oh, H., & Park, J. (2010). Measuring the experience economy of film festival participants. International Journal of Tourism Sciences, 10 (2): 35-54.
Park, M., & Stokowski, P. A. (2009). Social disruption theory and crime in rural communities: Comparisons across three levels of tourism growth. Tourism Management, 30 (6): 905-915.
Courses Taught This Semester