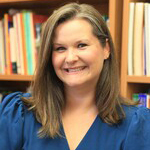 Contact Information
Phone: This information is not available
Fax: This information is not available
Email: hglaser (@gmu.edu)
George Mason University
Fairfax Campus
Thompson Hall 1407
4400 University Dr.
MS 4C2
Fairfax, VA 22030
Recent Publications
Glaser, H. D., & Meadows, E. C. (anticipated 2022). Becoming "talent scouts": Recognizing and addressing gifted potential in English Learners. In A. Esmail (Ed.), English Language Learners: A Social Change Perspective.
Helmsing, M., Parker, A. K., Glaser, H., Zenkov, K, & Porter, A. (2022). Coaching cubed: Mentor teachers' perspectives on the exponential nature of supporting teacher candidates during uncertain times. School-University Partnerships. 15 (1), 40-59.
Weiss, M., Glaser, H., Regan, K. S. (2022). eCoaching to support internship and induction. In B. Zugelder, & M. L'Esperance (Eds.), Handbook of Research on the Educator Continuum and Development of Teachers (pp. 212-230). IGI Global.
*Glaser, H., Helmsing, M., Parker, A. K., & Zenkov, K. (2021). Adding the "T" to the "PACK" in clinical experiences: How technology shaped our pandemic teacher education pedagogies and partnerships. The New Educator. doi:10.1080/1547688X.2021.1983097 *Taylor & Francis 2022 Outstanding Journal Article Award
Parker, A. K., Zenkov, K., & Glaser, H. (2021). Preparing school-based teacher educators: Mentor teachers' perceptions of mentoring and mentor training. Peabody Journal of Education. 96 (2), 1-11.
Weiss, M. P. & Glaser, H. (2021). Instruction in co-teaching in the age of Endrew F. Behavior Modification. 45(1), 39-65.
Zenkov, K., Helmsing, M., Parker, A. K., Glaser, H., & Bean, A. (2021). Portrait of the teacher educator as a weary pedagogue: Narrating our way to a post-pandemic vision of educator preparation. The Teacher Educators' Journal. 14, 106-125.
Zenkov, K., Parker, A. K., & Glaser, H. (2020). Valuing the expertise of school-based teacher educators in school-university partnerships: Creating a sustainable model of mentor teacher preparation. In P. E. Bernhardt, T. Conway, & G. Richardson (Eds.), Collaborative Models for Clinical Practice: Reflections from the Field (pp. 1-14). Rowman & Littlefield.