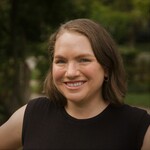 Dr. Samantha L. Viano
PhD, Vanderbilt University
Assistant Professor
Education Leadership
Interdisciplinary Center for Research and Development in Teacher Education

Contact Information
Phone: ‪(703)679-7672
Fax: (703) 993-3643
Email: sviano (@gmu.edu)
George Mason University
Fairfax Campus
Thompson Hall 1304
4400 University Dr.
MS 4C2
Fairfax, VA 22030
Profile
Samantha Viano is an Assistant Professor of Education at the School of Education, College of Education and Human Development at George Mason University. Her research agenda critically examines endemic challenges in PreK-12 schools and the policies schools adopt in response, with the dual goals of contextualizing the nature of these problems and evaluating the effects of the chosen solutions on traditionally marginalized and racially minoritized students and their teachers. Dr. Viano uses a variety of quantitative and qualitative methods, integrating cutting-edge techniques and mixed methodologies. Her work is interdisciplinary, and she frequently collaborate with researchers from other fields including sociology, criminology, and public policy. Dr. Viano specifically examine the following specific educational policies as potential levers for addressing or exacerbating racial inequality in schools: (1) school safety and security, (2) teacher mobility, and (3) online credit recovery. To advance the field of educational policy research to address racial inequality, Dr. Viano also write about how to integrate critical theory into quantitative educational research.
Dr. Viano earned an undergraduate degree in mathematics with a minor in education from Haverford College. She earned a Master in Science of Education degree from Northwestern University. Her terminal degree is a PhD in Leadership and Policy Studies with a focus on K-12 Education Policy from Vanderbilt University. Dr. Viano taught high school math in Chicago in both a traditional high school as well as a charter high school.
Her work has been supported by the National Institute of Justice Comprehensive School Safety Initiative. She was a 2017 National Academy of Education/Spencer Foundation Dissertation Fellow.
Research Interests
Dr. Viano's research focuses on the evaluation of programs and policies that predominately affect traditionally marginalized and racially minoritized student populations. Within this area, she focuses on several specific research strands:
Online credit recovery courses.
School climate and safety.
School security.
Exclusionary discipline.
Teacher mobility.
School improvement.
School leadership effectiveness and preparation.
Recent Publications
Viano, S. (2021). A choice between second chances: An analysis of how students address course failure. American Journal of Education, 128(1), 29-58.
Gerlinger, J., Viano, S., Gardella, J. H., Fisher, B. W., Curran, F. C., & Higgins, E.M. (2021). Exclusionary school discipline and delinquent outcomes: A meta-analysis. Journal of Youth and Adolescence, 50, 1493-1509.
Viano, S., Curran, F. C., & Fisher, B. W. (2021). Kindergarten cop: A case study of how a coalition between school districts and law enforcement led to school resource officers in elementary schools. Educational Evaluation & Policy Analysis. 43(2), 253-279.
Viano, S., Pham, L. D., Henry, G. T., Kho, A., & Zimmer, R. (2021). Push or pull: School-level factors that influence teacher mobility in low-performing schools. American Educational Research Journal, 58(1), 201-233.
Curran, F. C., Viano, S., Kupchik, A., & Fisher, B. W. (2021) How do interactions with school resource officers predict students' likelihood of being disciplined and feelings of safety? Mixed-methods evidence from two school districts. Educational Evaluation & Policy Analysis. 43(2), 200-232
Fisher, B. W., Higgins, E. M., Kupchik, A., Viano, S., Curran, F. C., Overstreet, S., Plumlee, B., & Coffey, B. (In Press). Are the Kids Alright? School Resource Officers' Perceptions of Threats to Schools. Social Problems.
Kupchik, A., Curran, F. C., Fisher, B. W., & Viano, S. (2020). Police Ambassadors: Student-Police Interactions in School and Legal Socialization. Law & Society Review, 54(2), 391–422.
Viano, S., & Baker, D. J. (2020). How Administrative Data Collection and Analysis Can Better Reflect Racial and Ethnic Identities. Review of Research in Education, 44(1), 301–331.
Curran, F. C., Fisher, B. W., & Viano, S. (2020). Mass school shootings and the short-run impacts on use of school security measures and practices: National evidence from the Columbine tragedy. Journal of School Violence, 19(1), 6–19.
Curran, F. C., Fisher, B. W., Viano, S., & Kupchik, A. (2019). Why and when do school resource officers engage in school discipline? The role of context in shaping disciplinary involvement. American Journal of Education, 126, 33–63.
Curran, F. C., Viano, S., & Fisher, B. W. (2019). Teacher victimization, turnover, and contextual factors promoting resilience. Journal of School Violence, 18(1), 21–38.
Redding, C., & Viano, S. (2018). Co-Creating School Innovations: Should Self-Determination Be a Component of School Improvement? Teachers College Record, 120(11), 1–32.
Viano, S. (2018). At-Risk High School Students Recovering Course Credits Online: What We Know and Need to Know. American Journal of Distance Education, 32(1), 16–26.
Fisher, B. W., Viano, S., Chris Curran, F., Alvin Pearman, F., & Gardella, J. H. (2018). Students' Feelings of Safety, Exposure to Violence and Victimization, and Authoritative School Climate. American Journal of Criminal Justice, 43(1), 6–25.
Viano, S., & Hunter, S. B. (2017). Teacher-principal race and teacher satisfaction over time, region. Journal of Educational Administration, 55(6), 624–639.
Flores, S. M., Park, T. J., Viano, S., & Coca, V. M. (2017). State Policy and the Educational Outcomes of English Learner and Immigrant Students: Three Administrative Data Stories. American Behavioral Scientist, 61(14), 1824–1844.
Grissom, J. A., Viano, S., & Selin, J. L. (2016). Understanding Employee Turnover in the Public Sector: Insights from Research on Teacher Mobility. Public Administration Review, 76(2), 241–251.
Henry, G.T. & Viano, S. (2016). An Evaluation of the North Carolina Educator Evaluation System for School Administrators: 2010-11 through 2013-14. Consortium for Educational Research and Evaluation–North Carolina.
Campus Affiliations
Interdisciplinary Center for Research and Development in Teacher Education
Courses Taught This Semester