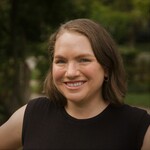 Contact Information
Phone: (703) 993-2572
Fax: (703) 993-3643
Email: sviano (@gmu.edu)
George Mason University
Fairfax Campus
Thompson Hall 1307
4400 University Dr.
MS 4C2
Fairfax, VA 22030
Profile
Samantha Viano is an Assistant Professor of Education at the Graduate School of Education, College of Education and Human Development at George Mason University. Her past and future research agenda reflects a dedication to improving the long-term outcomes of marginalized students and professional lives of the educators who teach them by conducting rigorous evaluations of current policies and programs. Samantha earned an undergraduate degree in mathematics with a minor in education from Haverford College. She earned a Master in Science of Education degree from Northwestern University. Her terminal degree is a PhD in Leadership and Policy Studies with a focus on K-12 Education Policy from Vanderbilt University. Samantha taught high school math in Chicago in both a traditional high school as well as a charter high school. She has extensive experience as an education advocate, researcher, and journalist dating back to her time in college.
Her work has been supported by the National Institute of Justice Comprehensive School Safety Initiative. She was a 2017 National Academy of Education/Spencer Foundation Dissertation Fellow.
Research Interests
Dr. Viano's research focuses on the evaluation of programs and policies that predominately affect traditionally marginalized or at-risk student populations.Within this area, she focuses on several specific research strands:
School improvement.
Online credit recovery courses.
School climate and safety.
School security.
Exclusionary discipline.
Teacher retention.
School leadership effectiveness and preparation.