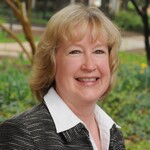 Contact Information
Phone: (703) 993-1787
Fax: (703) 993-3681
Email: pbaker5 (@gmu.edu)
George Mason University
Fairfax Campus
Finley Building 208C
4400 University Dr.
MS 1F2
Fairfax, VA 22030
Profile
As a full-time faculty member at George Mason University, I have taught a variety of special education courses, mentored graduate student research projects, and studied ways to facilitate the responsible inclusions of learners with special needs. Prior to making the move to higher education, I was the coordinator of a day treatment center for students with behavioral disorders in Newport News, VA. Our program supported students from six different school districts. Even though I enjoyed my time in administration, my heart has always been in the classroom. My masters degree is in the areas of Learning Disabilities and Emotional/Behavioral Disorders. I have taught students with special needs in a variety of settings from inclusion to self-contained, mostly grades 6-12. I have also taught math in the regular education setting at both the middle and high school levels as General Mathematics was my initial licensure area. My undergraduate background is Psychology.
Research Interests
Responsible Inclusion of Learners with Special Needs
Preparation of Teachers and Administrators
Effective Interventions in both Classroom and Extracurricular Settings
Recent Publications
Baker, R. E., Baker, P.H., Evmenova, A., and Harris, L. (in press). Perceptions of international sport exchange participants regarding inclusive sport.  International Journal of Sport Management.
King-Sears, M. E., & Baker, P. B. (2014). Comparison of teacher motivation in middle schools that have and have not achieved AYP. ISRN Education, Article ID 790179, 12 pages. doi:10.1155/2014/790179
Regan, K., Evmenova, A., & Baker, P. (2014). Supporting instructors in online learning environments: Addressing the challenges. In P. Lowenthal, C. York, & J. Richardson (Eds.), Online learning: Common misconceptions, benefits, and challenges (pp. 1-15). Hauppauge, New York: NOVA Publishers.
Murray, M., Baker, P. H., & Straka, L. & Murray-Slutsky, C. (2014). Educational strategies in Autism Spectrum Disorders. In C. Murray-Slutsky & B. Paris (Eds.), Exploring the spectrum of Autism and Pervasive Developmental Disorders: Intervention strategies (pp. 497-518). Austin, TX: Pro-Ed.
Miller, M., & Baker, P. H. (2013). Introduction to social media: Exploring issues and ideas. In CASE, 55(1), 14-15.
Wolf, J. J., & Baker, P. H. (2012). Another use for Seuss: Reading for social skills. Preventing School Failure, 56(3), 172-179.
Regan, K., Evmenova, A, Baker, P. H., Jerome, M. K., Spencer, V., Lawson, H., & Werner, T. (2012). Experiences of instructors in online learning environments: Identifying and regulating emotions. Internet and Higher Education, 15, 204-212.
Baker, P. H., & Murray, M. (2011). Building community partnerships: Learning to serve while learning to teach. The School Community Journal, 21(1), 113-127.
Evmenova, A. S., Behrmann, M. M., Mastropieri, M. A., Baker, P. H., & Graff, H. J. (2011). The effects of video adaptations on comprehension of students with intellectual and developmental disabilities. Journal of Special Education Technology, 26(2), 39-54.
Baker, P. H., Murray, M., Murray-Slutsky, C., & Paris, B. (2010). The faces of Autism. Educational Leadership, 68(2), 40-45.
Baker, P. H., & Bon, S. C. (2010). Principals, special education, and hiring. Academic Exchange Quarterly, 14(3), 221-225.
Courses Taught This Semester
Other Courses Taught
Classroom Management and Applied Behavior Analysis (EDSE 402)
Comprehensive Topics in Special Education: Trends and Issues (EDSE 782)
Internship in Special Education (EDSE 790)
Final Portfolio (EDSE 792)