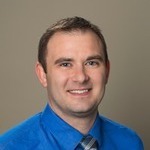 Contact Information
Phone: (703) 993-7115
Fax: (703) 993-2025
Email: crobiso4 (@gmu.edu)
George Mason University
Science and Technology Campus
Katherine G. Johnson Hall 201D
10890 George Mason Circle
MS 4E5
Manassas, VA 20110
Profile
Dr. Robison infuses his passion for teaching with his love of exercise, fitness and well-being. Rich, meaningful learning experiences highlight his engaging style of teaching. Students are routinely asked to participate in laboratory experiences, in-class discussion groups, and thought-provoking assignments. In addition he has extended his teaching efforts beyond the classroom. Graduate and undergraduate students have worked with Dr. Robison on various research projects investigating cardiometabolic health.
Dr. Robison is a member of the American College of Sports Medicine (ACSM) and the Clinical Exercise Physiology Association. He holds credentials from ACSM as both a Certified Exercise Physiologist and a Certified Clinical Exercise Physiologist.
Dr. Robison earned his B.S.Ed. in Physical Education from Missouri Southern State University; M.S. in Physical Education, Exercise and Sports Science from the University of Central Missouri; and Ph.D. in Exercise Physiology from The University of North Carolina at Greensboro.
Research Interests
Cardiovascular disease, obesity, and adaptations to aerobic exercise
Recent Publications
Wagganer JD, Robison CE, Ackerman TA, Davis PG. Effects of exercise accumulation on plasma lipids and lipoproteins. Applied Physiology, Nutrition, and Metabolism, 40(5): 441-7, 2015.
Cary A, Robison CE, Cortes N, Mehlenbeck R, Rallis BA, Machell KA, Esposito-Smythers C, Bean, M. Self-esteem and self-efficacy are not related to body fat percentage in depressed overweight adolescents (in preparation).
Robison CE, Grassi D, Ambegaonkar J. Post exercise hypotension following bouts of high intensity interval exercise and moderate intensity continuous exercise (in preparation).
Campus Affiliations
Division of Health and Human Performance
Courses Taught This Semester