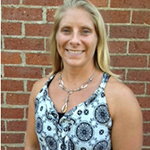 Contact Information
Send email to Dr. Fyock-Martin
Phone: (703) 993-7118
Fax: (703) 993-2025
Email: mfyock (@gmu.edu)
George Mason University
Science and Technology Campus
Katherine G. Johnson Hall 222
10890 George Mason Circle
MS 4E5
Manassas, VA 20110
Profile
Dr. Fyock earned her DAT from the University of Idaho in Athletic Training, with an emphasis on patient outcomes and patellar femoral pain. She holds a M.S. in Exercise Science from Syracuse University and a B.S. in Athletic Training from Slippery Rock University of Pennsylvania. Her research interests are focused on movement assessment and treatment of pain and dysfunction. Specifically incorporating the Regional Interdependence Theory to assess movement patterns and guide treatment options. She has given numerous national and state presentations on her research interests and has published in a peer-reviewed journal. Outside of work, Dr. Fyock enjoy participating in Olympic lifting, crossfit and other forms of exercise at both a recreational and competitive level.
Research Interests
Regional Interdependence Theory
Patellar Femoral Pain
Movement Pattern Dysfunction and Pain
Using Global Assessment and Treatments to Alter Dysfunction and Pain
Recent Publications
Fyock M, Seegmiller J, Naspany A, Baker R (2016). Treating Patients with Patellofemoral Pain Syndrome using Regional Interdependence Theory: A Critically Appraised Topic. IJATT 21(3): 5-11.
Other Courses Taught
Physical Assessment of the Upper Body (ATEP 260)
Clinical Techniques II: Physical Assessment of the Upper Body (ATEP 265)
Therapeutic Interventions Foundations (ATEP 320)
Therapeutic Interventions I (ATEP 350)
Lower Body Therapeutic Interventions (ATEP 351)
Athletic Training Clinical Techniques 2 (ATEP 354)
Clinical Techniques 3: Therapeutic Interventions I (ATEP 355)
Practicum IV: Therapeutic Rehabilitation (ATEP 366)
Practicum 5 Professional Integration (ATEP 456)
Research Methods (PRLS 450)