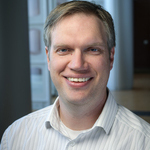 Contact Information
Phone: (703) 993-3137
Fax: (703) 993-2722
Email: jborup (@gmu.edu)
George Mason University
Fairfax Campus
Thompson Hall L042
4400 University Dr.
MS 5D6
Fairfax, VA 22030
Curriculum Vitae
Profile
Jered Borup is an Assistant Professor in the Division of Learning Technologies at George Mason University. In his current position, he is the professor-in-charge of the Blended and Online Learning in Schools Master's and Certificate programs that are devoted to improving teacher practices in online and blended learning environments. Previous to earning his Ph.D. at Brigham Young University, Jered taught history at a junior high school for six years. He has also taught online and blended courses since 2008. The following summarizes Jered's teaching and scholarship:
30 peer-reviewed articles published or accepted for publication--18 as the first author

11 book chapters published or accepted for publication—6 as the first author

Over 70 invited presentations, workshops, and keynotes for various organizations, schools, and universities.

Over 50 peer-reviewed conference presentations (AERA, AECT, SITE, E Learn, iNACOL, Open Ed, and NECC)

$270,000 obtained or committed funding from grants, awards, and fellowships

35 undergraduate and graduate course sections designed and taught using online, blended, and face-to-face formats

6 years teaching experience in K-12 settings with diverse student populations while serving in leadership positions (department chair and mentor to new teachers, university interns, and a student teacher)
Research Interests
Current research interests include developing online learning communities and identifying support systems that adolescent learners require to be successful in online environments.
Recent Publications
Bold=mentored students; AR=acceptance rate; IF=impact factor
Borup, J., Walters, S., & Call-Cummings, M. (accepted). Examining the complexities of parental engagement at an online charter high school: A narrative analysis approach. International Review of Research in Open and Distributed Learning.




Borup, J., Chambers, C., & Stimson, R. (in press). Online teacher and on-site facilitator perceptions of parental engagement at a supplemental virtual high school. International Review of Research in Open and Distributed Learning.




Borup, J. & Stimson, R. (in press). Online teachers' and on-site facilitators' shared responsibilities at a supplemental virtual secondary school. American Journal of Distance Education.




Borup, J. & Evmenova, A. (in press). The effectiveness of professional development in overcoming obstacles to effective online instruction in a college of education. Online Learning.




Stevens, M., Borup, J., & Barbour, M. K. (2018). Preparing social studies teachers and librarians for blended teaching. Contemporary Issues in Technology and Teacher Education, 18(4). Retrieved from: https://www.citejournal.org/volume-18/issue-4-18/social-studies/preparing-social-studies-teachers-and-librarians-for-blended-teaching/




Oviatt, D., Graham, C. R., Borup, J. & Davies, R. S. (2018). Online student use of a proximate community of engagement at an independent study program. Online Learning, 22, 223-251 (AR=25%)




*West, R., Jay, J., Armstrong, M., & Borup, J. (2017). "Picturing them right in front of me": Guidelines for implementing video communication in online and blended learning. TechTrends, 61, 461-469. Accessible at http://rdcu.be/tRrA (AR=25%)




*Awarded second place in the DDL Application-Based Journal Article Award




Borup, J. & Stevens, M. (2017). Using student voice to examine teacher practices at a cyber charter high school. British Journal of Educational Technology, 48, 1119-1130. (AR=14%; IF=2.729)




Atwater, C. R., Borup, J., Baker, R. E., & West, R. (2017). Student perceptions of video communication in an online sport and recreation studies graduate course. Sports Management Education Journal, 11, 3-12. (AR=22%)




*Thomas, R. A., West, R. E., & Borup, J. (2017). An analysis of instructor social presence in online text and asynchronous video feedback comments. Internet and Higher Education, 33, 61-73. (AR=25; IF=5.847)




*Awarded the AECT's Design and Development Division Outstanding Journal Article Award

*West., R. E., Thomas, R., Bodily, R., Wright, C., & Borup, J. (2017) An analysis of Instructional design and technology departments. Educational Technology Research and Development, 65, 869-888. (AR=10%; IF=1.728)




*This article was reprinted in the Educational Media and Technology Yearbook (Vol. 41)




Oviatt, D., Graham, C. R., Borup, J. & Davies, R. S. (2016). Online student perceptions of the need for a proximate community of engagement at an independent study program. Journal of Online Learning Research, 2, 333-365. Retrieved from: http://www.learntechlib.org/p/173649 (AR=27%)




Borup, J. & Stevens, M. (2016). Parents' perceptions of teacher support at a cyber charter high school. Journal of Online Learning Research. 2, 227-246. Retrieved from: http://www.learntechlib.org/p/173212 (AR=27%)




Borup, J. (2016). Teacher perceptions of peer engagement at an online high school. The International Review of Research in Open and Distance Learning, 17, 231-250. Retrieved from: http://www.irrodl.org/index.php/irrodl/article/view/2361 (AR=33%; IF=1.734)




Drysdale, J., Graham, C. R., & Borup, J. (2016). Teacher and student perspectives on facilitating a sense of community through an online high school's "shepherding" program. International Journal of e-Learning, 15, 149-177. (AR=11-20%)




Borup, J. & Stevens, M. (2016). Factors influencing teacher satisfaction at an online charter school. Journal of Online Learning Research, 2, 3-22. (AR=27%)




Borup, J. (2016). Teacher perceptions of parental engagement at a cyber high school. Journal of Research on Technology in Education, 48, 67-83. (AR=13%)




Borup, J., Stevens, M., & Hasler Waters, L. (2015). Student and parent perceptions of parental engagement at an online charter high school. Online Learning, 19. (AR=25%).




*Borup, J., West, R. E., & Thomas, R. A. (2015). The impact of text versus video communication on instructor feedback in blended courses. Educational Technology Research and Development, 63, 161-184. doi :10.1007/s11423-015-9367-8 (AR=10%; IF=1.171)




*Awarded second place in the DDL Qualitative Journal Article Award




Freidhoff, J. R., Borup, J., Stimson, R., & DeBruler, K. (2015) Documenting and sharing the work of successful on-site mentors. Journal of Online Learning Research, 1, 107-128. (AR=27%)




*Borup, J., Graham, C. R., & Drysdale, J. (2014). The nature of online teacher engagement at an online high school. British Journal of Educational Technology, 45, 793-806. doi: 10.1111/bjet.12089 (AR=14%; IF=1.318)




*Awarded first place in the DDL Qualitative Focused Article Award




Borup, J., West, R. E., Thomas, R. A., Graham, C. R. (2014). Examining the impact of video feedback on instructor social presence in blended courses. The International Review of Research in Open and Distance Learning, 15, 232-256. (AR=33%; IF=0.734)




West, R. E. & Borup, J. (2014). An analysis of a decade of research in 10 instructional design and technology journals. British Journal of Educational Technology, 45, 545-556. doi: 10.1111/bejet.12081 (AR=14%; IF=1.1318)

*Borup, J., West, R. E., Graham, C. R., & Davies, R. (2014). The adolescent community of engagement framework: A lens for research on K-12 online learning. Journal of Technology and Teacher Education, 22, 107-129. (AR=15%)




*Awarded third place in the DDL Qualitative Focused Article Award




Drysdale, J., Graham, C. R., & Borup, J. (2014). An online high school "shepherding" program: Teacher roles and experiences mentoring online students. Journal of Technology and Teacher Education, 22, 9-32. (AR=15%)




*Borup, J., West, R. E., & Graham, C. R. (2013). The influence of asynchronous video communication on learner social presence: A narrative analysis of four cases. Distance Education, 34, 48-63. (AR=21-25%; IF=0.725)




*Awarded first place in the IAP and DDL Application-Based Journal Article Award




Borup, J., Graham, C. R., & Davies, R. S. (2013). The nature of adolescent learner interaction in a virtual high school setting. Journal of Computer Assisted Learning, 29, 153-167. doi: 10.1111/j.1365-2729.2012.00479.x (AR=8%; IF=1.023)




Borup, J., Graham, C. R., & Davies, R. S. (2013). The nature of parental interaction in a virtual high school setting. American Journal of Distance Education, 27, 40-55. doi: 10.1080/08923647.2013.754271 (AR=11-20%)




*Borup, J., West, R. E., & Graham, C. R. (2012). Improving online social presence through asynchronous video. The Internet and Higher Education, 15, 195-203. (AR=25%; IF=2.013)




*Awarded second place in the IAP and DDL Journal Article Award for Advancing Practice




Graham, C. R., Borup, J., & Smith, N. B. (2012). Using TPACK as a framework to understand teacher candidates' technology integration decisions. Journal of Computer Assisted Learning, 28, 530-546. doi: 10.1111/j.1365-2729.2011.00472.x (AR=8%; IF=1.632)