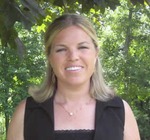 Contact Information
Phone: (703) 993-5345
Fax: (703) 993-2013
George Mason University
Fairfax Campus
Thompson Hall 1804
4400 University Dr.
MS 4B3
Fairfax, VA 22030
Profile
Elizabeth (Betsy) Levine Brown is an Assistant Professor in the Graduate School of Education, College of Education and Human Development. She joined the faculty in 2011. Dr. Levine Brown teaches courses in child development, curriculum, foundations and research methods within the Elementary Education program. In addition, Dr. Levine Brown is a PDS Facilitator at Kings Park and Kings Glen Elementary Schools in Springfield, Virginia as well as a University Supervisor for our Teach For America cohort. As a University Facilitator, she supervises teacher candidates who participate in George Masons Professional Development School (PDS) program.  Finally, Dr. Levine Brown holds a secondary affiliation in the Human Development and Family Sciences program.
Dr. Levine Brown received her PhD. in Applied Developmental Psychology (ADP) from the University of Pittsburgh, her MA in Psychology from Washington College, her MAT in Elementary Education from American University and her BA in Psychology and Educational Studies from Colgate University. Professionally, Dr. Levine Brown taught elementary school for five years from 2002-2007. As an alumnus of the Teach for America program, she taught first and second grades at Simon Elementary School. Thereafter, she was a first grade teacher at Matapeake Elementary School in Stevensville, MD.
Dr. Levine Browns research focuses on understanding socio-emotional indicators of teacher-student interactions as a means to close the persistent achievement gap for diverse, low-income children. As interactions are central to her area of investigation, she studoes this research paradigm across two units of analysis, the teacher and the student, to comprehensively understand how developmental and psychosocial factors inform the teacher-student relationship in support of child outcomes. Given her academic training in ADP, she builts upon these areas of investigation grounded within an ecological systems framework (Bronfenbrenner, 1979), where context and individual intertwine to inform development and learning.  Consequently, this research agenda encompasses three lines of inquiry: (a) marginalized children and youth's social, emotional and academic development in the context of home, child care and school, (b) PreK-12 educators' social and emotional wellness and development to support positive pedagogical interactions, and (c) preservice and in-service, PreK-12 teachers' knowledge of socio-emotional influences on children's developmental and academic outcomes.
Research Interests
Developmental and psychosocial influences on learning
Social and emotional development, wellness and learning
Academic outcomes for marginalized children
Teacher preparation
Recent Publications
PUBLICATIONS
Garner, P., Mahatmya, D., Brown, E. L., & Vesely, C. (in press). Promoting desirable outcomes among culturally and ethnically diverse children in social emotional learning programs: A multi-level heuristic model. Educational Psychology Review.
Brown, E. L., Kanny, M. A.*, & Johnson, B.* (2014). School settings as a mechanism of change: Establishing high-risk adolescents' academic identities. Journal of Early Adolescence, 34(2), 178-205.
Vesely, C., Brown, E. L., & Mahatmya, D. (2013). It takes two: Sensitive caregiving across contexts and childrens social, emotional, and academic outcomes. Early Education & Development: Special Issue on Social and Emotional Learning in Early Education.
Brown, E. L., & Valenti, M. W. (2013). Merging pathways: The interdisciplinary study of emotional labor and therapeutic alliances in schools. The Community Psychologist.
Pizzolato, J. E., Brown, E. L., & Kanny, M. A.* (2012). Purpose plus: Supporting youth purpose, control, and academic achievement. In N. Goam & N. Fiore (Eds.), New Directions in Youth Development: Supporting and Instructing for Youth Purpose, 2011(132), 75-88.
Pizzolato, J., Hicklen, S., Brown, E. L., & Chaudhari, P. (2009). Student development, student learning: Examining the relation between epistemological development & learning. Journal of College Student Development, 50(5), 475-490.

BOOK CHAPTERS
Brown, E. L., Sprague, D., Ross, J., Leith, K., Wood, H.*, & Byun, E.* (2013). It takes a village: Relearning our PDS roles through an ecological, collaborative model. Professional Development Schools and Social Justice: Schools and Universities Partnering to Make a Difference.
Other Information
GRANTS & AWARDS
Awarded
Center for Consciousness and Transformation, George Mason University, Spring 2013 ($32,083). Co-PI: Dr. Colleen Vesely
College of Education and Human Development Seed Grant, George Mason University, Fall 2012 ($3,000). Co-PI: Dr. Colleen Vesely
Summer Research Funding Grant, Top Recipient, George Mason University, Fall 2012 ($4,900).
Longview Global Education for Teachers Collaborative Scholar, Recipient, George Mason University and American University, Fall 2012 ($250.00).