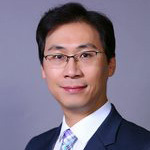 Contact Information
Phone: (703) 993-9915
Fax: (703) 993-2025
Email: slz (@gmu.edu)
George Mason University
Fairfax Campus
Krug Hall 213F
4400 University Dr.
MS 4E5
Fairfax, VA 22030
Profile
Professor Lee's professional works and research focus on the integration of technology into event management and convention/event management including venues.
Education & Designation
B.S. degree in Computer Science Engineering, Master of Tourism Administration (George Washington University) and PhD (Virginia Tech) degrees in Hospitality Management (concentrations in meetings and technology).

Work Experiences
He worked as a computer programmer and assistant manager of technology professional development and IT strategy planning team for SAMSUNG in South Korea. He worked as a convention/meeting planner for the Association of Science and Technology Centers and director of special events for Korean-American Centennial National Gala in Washington, D.C. He also worked as a meeting technology research specialist for Continuing and Professional Education at Virginia Tech.
He has published his research in the areas of meeting/convention/event management and impacts of Information and Communication Technology (ICT) on the meeting/event industry in various peer reviewed academic journals. He also presented his research at the International Council on Hotel, Restaurant and Institution Education (I-CHRIE), International Special Event Society (ISES) Annual Professional Development Conference, Meeting Professionals International (MPI), Professional Convention Management Association annual convention, International Hospitality and Convention Expo, and the Educational Technology Leadership Conference. His other research area is the impacts of economic circumstances on the event industry. He conducted the impact study with an exclusive partnership with International Festival and Event Association (IFEA) and Dr. Joe Goldblatt at Queens Margaret University in Scotland. He was an invited speaker at the IFEAs 55th annual convention in St. Louis, MO. He also conducted research for the Destination Marketing Association International (DMAI) and ISES. He served and is serving as a committee member or board member for industry associations, including MPI, ISES, Hospitality Technology Strategic Initiative Council, and Virginia Restaurant, Lodging and Travel Association.
Dr. Lee is the editor of The Wiley Event Management Series and an editorial board member of the Journal of Convention and Event Tourism and Journal of Hospitality and Tourism Cases by ICHRIE..
AWARDS
Dr. Lee is the recipient of 2-time (2013 & 2014) GMU Teaching Excellence "Teacher of Distinction" for his dedication and highly effective teaching and was also nominated for 2012 Professional Convention Management Association (PCMA) Educator of the Year award.
Research Interests
Convention/Meeting management
Event management- Impacts of economic downturns on the event industry
Meeting/Event Technology
Impact of Information and Communication Technology on meeting site selection
Sport stadiums as an event/meeting venue and its marketing and perception
Meeting/event site selection criteria
Effectiveness of virtual meeting/distance learning
Technology acceptance model in the meeting/event industry
Recent Publications
REFEREED JOURNAL ARTICLES (17)
1) Jin, N., Lee, S.S., & Daniels, M. (2017). Wedding professionals' use of social media. Event Management 21, 515-521.
2) Lee, S.S., Parrish, C., & Kim, J. (2015). Sports stadiums as meeting and corporate/social event venues: Comparative analysis of perceived quality from meeting/event planners and sport facility stakeholders. Journal of Quality Assurance in Hospitality and Tourism 16 (2), 164-180..DOI:10.1080/1528008X.2015.1013406
3) Lee, S.S. & Slocum, S. (2015). Understanding the role of local food in the meeting industry: An exploratory study of meeting planners' perception of local food in meeting planning. Journal of Convention and Event Tourism.16(1), 45-60. DOI:10.1080/15470148.2014.986780
4) Jin, N. Lee, S.S., & Jun J. (2014). The role of brand credibility in understanding and predicting consumers' behavioral intention in luxury restaurants. Anatolia: International Journal of Hospitality and Tourism Management, DOI: 10.1080/13032917.2014.969284
5) Slocum, S., & Lee, S.S. (2014). Green ICT practices in event management: Case study approach to examine motivation, management and fiscal return on investment. Journal of Information Technology in Tourism, 14 (4), 347-362.
6) Giampiccoli, A., Lee, S.S., & Nauright, J. (2015). Destination South Africa: The role of global sports mega events and recurring localized sports events in South Africa for tourism and development. Current Issues in Tourism. 18 (3), 229-248, DOI:10.1080/13683500.2013.787050
7) Park, K., Lee, S.S.*, & Khan, M. (2014). Exploring the impact of franchise support on user acceptance of intranet in quick service restaurant franchise system. Journal of Hospitality and Tourism Technology, 5(2), 143-159.
8) Lee, S.S. & Lee, C. (2014). An exploratory study of social media usage by convention attendees and key individual differences influencing their choice of convention information source and mobile application. Journal of Convention and Event Tourism, 15(2), 135-149.

9) Parrish, C., Lee, S.S.*, & Kim, J. (2014). Marketing stadiums as events venues: Modified Balanced Scorecard (mBSC) evaluation of Minor League Baseball websites as an eMarketing tool. Journal of Applied Sport Management, 6(3), 20-46.
10) Khan, M., Lee, S.S. & Park, K. (2013). A longitudinal study of hospitality and tourism management graduate programs: quality assessment and rankings during 2002-2012. Journal of Hospitality and Tourism Education, 25(4), 193-205.

11) Kim, J., Jeon, Y., Lee, S.S., & Parrish, C. (2013). Developing a conceptual framework for the attractiveness of professional sports facilities as corporate and social event venues. International Journal of Human Movement Science, 7(1), 65-82.
12) Lee, S.S., Goldblatt, J., & Daniels, M. (2012). A comparative analysis of the perceived effects of two economic recessions on event organizations. Tourism Review International, 16(1), 59-67.
13) Lee, S.S., Park. K., & Khan, M. (2012). Perceived importance of ICT based feature and services on site selection by types of meeting planners. Journal of Hospitality and Tourism Technology, 3(1), 22-46.
14) Lee, S.S., & Goldblatt, J. (2012). The current and future impacts of the global financial crisis upon events and festivals industry, International Journal of Event and Festival Management, 3(2), 137-148.
15) Lee, S.S., Kim, J., & Parrish, C. (2012). Are you ready for the extra inning? An exploratory study of the evaluation of professional sport teams' website as a marketing tool to prospective meeting/event customers, Journal of Convention and Event Tourism, 13(4), 270-289.
16) Daniels, M., Lee, S.S., & Cohen, T. (2012). The factors influencing wedding reception venue, Event Management, 16(3), 245-248.
17) Lee, S.S. (2011). Tweet or not to tweet: Impact of social media usage as a part of during meeting functions, Journal of Convention and Event Tourism, 12(4), 271-289
* Corresponding author
TEXTBOOK (Authored)
Lee, S.S., & Goldblatt, J. (in revision). Special Events:The Brave New World for Bolder & Better Live Events, 8th ed.,Wiley, NJ
Lee, S.S., Boshnakova, D. & Goldblatt, J. (2016). The 21st century meeting and event technology: Powerful tools for better planning, marketing, and evaluation.
Apple Academic Press, NJ

BOOK CHAPTER
1) Lee, S.S. (2017). Meetings and Conventions Tourism, in Lowry, L. (Eds.), The SAGE International Encyclopedia of Travel & Tourism. SAGE, Thousand Oaks, CA.
2) Parrish, C., Lee, S.S., & Kim, J. (2017). Argentinean football and 'white space' business strategies, in Bravo, G. & López de D'Amico, R. (Eds.), Sport Policy and Management in Latin America. Rouledge, Oxon, UK.
3) Nauright, J., Lee, S.S. & Giampiccoli, A. (2013). Events as sport tourism, in Finkel, R., McGillivray, D. & McPherson, G (Eds.), Research Themes in Events. CABI, UK, 111-222.

Other Information
Teaching:
Meeting/Convention Management
Special Event Management
Meeting/Event Technology
Hospitalty Management
Hospitality Management Information Syste
Catering Management
Travel and Tourism Management
Awards
2018 GMU Excelence for Teaching Award Finalist
2014 GMU Excelence for Teaching "Teacher of Distinction" Award
2013 GMU Excelence for Teaching "Teacher of Distinction" Award
2012 Professional Convention Management Association (PCMA) Educator of the Year Nominee
2012 International Hospitality Information Technology Association (iHITA) Conference Best Paper Finalist
2012 George Mason University Excellence for Teaching Award Finalist
Courses Taught This Semester