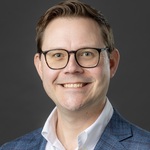 Contact Information
Phone: (703) 993-4485
Fax: (703) 993-3643
Email: shunte (@gmu.edu)
George Mason University
Fairfax Campus
Thompson Hall 1301
4400 University Dr.
MS 4C2
Fairfax, VA 22030
Profile
Dr. Seth B Hunter is Assistant Professor of Education Leadership, with Mason affiliations in Research Methods and Education Policy. He is also affiliated with the Tennessee Education Research Alliance, a partnership among Vanderbilt University, the Tennessee Department of Education, and other researchers. His research interests include the intersection of educator (i.e. teacher, principal) professional development and evaluation, educator observation systems and practices, and teacher leadership. To explore these topics Dr. Hunter applies econometric and descriptive techniques to large-scale non-experimental data. Some of his work employs psychometric or qualitative methods.
Before his academic career, Dr. Hunter worked/ served in various K-12 organizations including: the Kentucky Department of Education as a field agent supporting teacher leaders, principals, and superintendents; Kentucky Council of Teachers of Mathematics as President; Kentucky Education Association as State Representative; and classroom teacher of middle and high school students.
Because of his research and professional experiences, Dr. Hunter has advised the Kentucky and Tennessee Departments of Education, a teacher evaluation organization in Missouri, and school districts on matters of education policy and practice.
Dr. Hunter is happily married to Dr. Amy English Hunter and they are the proud parents of two children. Aside from his love of work and family, Dr. Hunter also loves barbecuing, ice hockey, puzzles, interesting foods, and many kinds of music.
Research Interests
Practices and policies concerning educator evaluation and observation
Teacher leadership
Measurement properties of observations
Education policy
Recent Publications
See CV section for details
* student co-author
Hunter, S. and L. Rodriguez. (In press). Examining the Demands of Teacher Evaluation: Time Use, Strain, and Turnover Among Tennessee School Administrators. Journal of Educational Administration.
Rodriguez, L. and S. Hunter. (In press). Making do: Why do administrators retain low-performing teachers?. Educational Researcher.
Cravens, X. and S. Hunter. (In press). Assessing the impact of collaborative inquiry on teacher performance and effectiveness. School Effectiveness and School Improvement.
Hunter, S. and A. Ege* (In press). Linking Student Outcomes to School Administrator Discretion in the Implementation of Teacher Observations. Education Administration Quarterly.
Hunter, S. (2020). The unintended effects of policy-assigned teacher observations: Examining the validity of observation scores. AERA Open, 6(2), 1-16.