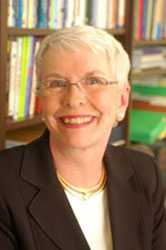 Contact Information
Phone: (703) 993-3361
Fax: (703) 993-2013
Email: pearley (@gmu.edu)
George Mason University
Fairfax Campus
West Building 2101
4400 University Dr.
MS 6D2
Fairfax, VA 22030
Profile
Dr. Penelope M. Earley is a Professor and Director of the Center for Education Policy http://cehd.gmu.edu/centers/edpolicy/. She also teaches graduate courses in education policy and analysis. Dr. Earley serves on advisory boards for the IRIS Project on Faculty Development and ASCD's Research Briefs.
Dr. Earley's undergraduate degree is from the University of Michigan, her Masters in Foundations of Education is from the University of Virginia, and her Ph.D. in Research and Evaluation is from Virginia Tech.
Research Interests
Teacher education policy
Federal and state education policy
Gender equity
Recent Publications
Earley, P. "Searching for the General Welfare in Federal Education Process" in Teaching for Democracy and Social Justice (in press).
Earley, P. and Laitsch, D. Teacher Education in the News: What the Media Reports, What Teacher Education Leaders Say, and How to Bring the Two Together (2004), AACTE Annual Meeting.
Earley, P. Analysis of the Secretary of Education's 2003 Report on Teacher Quality: It's Déjà vu All Over Again (2003).
Earley, P. "Finding the Culprit: Federal Policy and Teacher Education." Educational Policy (January and March 2002).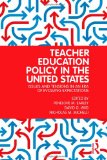 Other Information
Mason Courses Taught
EDUC 870 Education Policy: Process, Context and Politics
EDUC 871 Advanced Policy Issues in Education
EDUC 872 Social Science Research and Education Policy