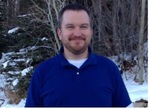 Mr. Kevin Taylor
M.A., Gallaudet University
Instructor
Academic Program Coordinator, Sp Ed: American Sign Language
Special Education

Contact Information
Phone: (703) 993-5040
Fax: (703) 993-3681
Email: ktaylo2 (@gmu.edu)
George Mason University
Fairfax Campus
Krug Hall 103B
4400 University Dr.
MS MSN
Fairfax, VA 22030
Profile
Kevin Taylor is currently an American Sign Language (ASL) Professor-in-Charge faculty member at George Mason University teaching ASL courses for students minoring in ASL. Kevin received his B.S. in Biological Sciences from Colorado State University and his M.A. in Deaf Studies: Specializing in Teaching Sign Language from Gallaudet University.
Prior to working at GMU, he a Professor in the ASL/INT program at Northern Virginia Community College since 2011 teaching a wide variety of ASL and Interpreting courses. He also worked for a year at Gallaudet University teaching ASL. Kevin was also a high school teacher at Model Secondary School for the Deaf (MSSD) for four years. He has given several workshops "ASL Science Concepts used in the Classroom" for educational interpreters. Kevin recently co-presented on "Deaf Interpreter Educators: An Expanding Field" at the Conference of Interpreter Trainer's conference in Portland, Oregon.
He remains active in various local and national organizations by maintaining memberships with ASLTA and Conference of Interpreter Trainers and served as a Vice President on a local committee with Veditz American Sign Language Teachers' Association located in Virginia.
He is currently ASLTA certified and a Certified Deaf Interpreter. He has been interpreting with various agencies in the DC metro area.
Hobbies: In his spare time, Kevin likes to travel, play video games, read books and spend time with his husband and two dogs.
Other Courses Taught
American Sign Language (ASL) II (EDSE 516)
American Sign Language (ASL) III (EDSE 519)