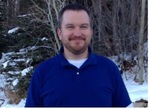 Mr. Kevin Taylor
(he/him/his)
MA, Gallaudet University
Senior Instructor
Academic Program Coordinator, Special Education: American Sign Language
Special Education

Contact Information
Phone: (703) 993-5040
Fax: (703) 993-3681
Email: ktaylo2 (@gmu.edu)
George Mason University
Fairfax Campus
Krug Hall 103B
4400 University Dr.
MS MSN
Fairfax, VA 22030
Profile
Kevin Taylor is the Academic Program Coordinator/Instructor at George Mason University teaching ASL, Deaf History and Deaf Culture courses. KT received his M.A. in ASL and Deaf Studies with a concentration in Sign Language Teaching from Gallaudet University.
Prior to working at George Mason, he taught ASL and INT courses at Northern Virginia Community College and Gallaudet University. KT has presented multiple ASL workshops for Maryland ASLTA, Veditz ASLTA and Conference of Interpreter Trainers.
KT also works as a freelance Certified Deaf Interpreter with various agencies in the DC metro area.
Other Courses Taught
American Sign Language (ASL) II (EDSE 516)
American Sign Language (ASL) III (EDSE 519)