College of Education and Human Development
Turkey Trot Tips from Kinesiology Professor Joel Martin
A huge Thanksgiving meal awaits you. Are you thinking about a run to prepare -- or perhaps do penance for -- a marathon eat-a-thon? If so, here are some "turkey trot" tips from Assistant Professor Joel Martin!
(This article was written by Marilyn Campbell for the Connection Newspapers and is excerpted below.)
* * *
For some, Thanksgiving Day turkey trots are as much of a holiday tradition as football games, cranberry sauce and stuffing. For those considering a Thanksgiving Day race, local fitness experts say it might not be too late to get in shape.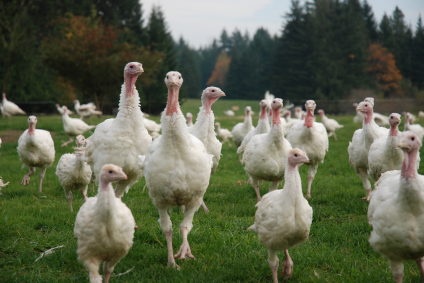 When developing a training program, consider one's physical ability. "The person's current fitness level and goals for the race are the most important two factors to consider," said Joel Martin, Ph.D., an assistant professor of kinesiology at George Mason University in Fairfax.
"I would recommend that a newer runner plan on running three days a week for the next two weeks —- maybe Monday, Wednesday and Friday," Martin said. Monday and Friday should be longer runs at a pace slightly slower than their goal for the 5K. On Wednesday, they should do some interval training or hill running to build up strength. There is no need to run distances longer than that of their race."
For those who are new to running, experts advise training slowly and carefully. "If they have not been doing any running, or very little, then they will really want to start off slow," said Martin. "Someone who has done virtually no running in the past couple months, who then decides to go out and run five miles tomorrow, will not be doing themselves any favors. They very well may injure themselves or become quite sore and not be able to train again for three or four days."
For experienced runners, however, Martin suggests adding another day of running or "some sort of cross-training [like] cycling, swimming [or] rowing one or two times per week. The week of the race, they should cut back on their training. This will allow their bodies to recover from the previous two weeks and their energy stores in their body to replenish themselves so they are at optimal levels for the race. Early in the week [of the race], they may want to do a longer run at a medium-to-slower pace and then a day or two before the race do a slow run for a mile or two," he said.
(Read the full article here.)
---
About CEHD
George Mason University's College of Education and Human Development (CEHD) includes two schools, the Graduate School of Education, which is the largest in Virginia, and the School of Recreation, Health, and Tourism. CEHD offers a comprehensive range of degrees, courses, licensures, and professional development programs on campus, online, and on site. The college is distinguished by faculty who encourage new ways of thinking and pioneering research supported by more than $75 million in funding over the past five years.
For additional information:
To receive a roundup of CEHD news via e-mail, subscribe to our news feed.
Follow CEHD on Facebook at www.facebook.com/MasonCEHD or Twitter at @MasonCEHD. Or subscribe to CEHD Connections, the college's occasional e-newsletter.