College of Education and Human Development
Nominate a Teacher for the Exemplary Early Career Teacher Award 2016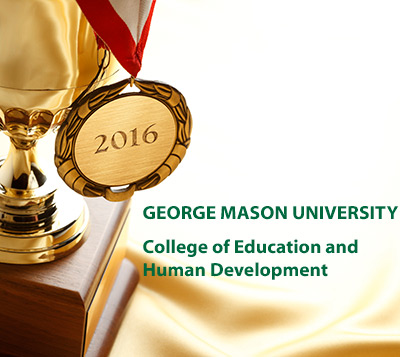 Do you know an extraordinary teacher who deserves a $2,500 award?
Nominate him or her for the Exemplary Early Career Teacher Award 2016! 
Nominations are due February 29, 2016.
Nominators may be principals, administrators, fellow teachers, faculty members, or community members — anyone familiar with the excellence a teacher has shown in teaching and educational leadership.
The award is presented by the Apple Federal Credit Union Education Foundation and the College of Education and Human Development at George Mason University. To be eligible, the award winner must be a graduate of one of the college's degree or licensure programs and also a full-time teacher for Fairfax County Public Schools with 1-3 years experience.
Additional information and the downloadable nomination form are available on the website at cehd.gmu.edu/exemplary.
Please share this information with your colleagues!
---
About CEHD
George Mason University's College of Education and Human Development (CEHD) includes two schools: the Graduate School of Education, one of the most comprehensive education schools in Virginia, and the School of Recreation, Health, and Tourism. CEHD offers a full range of courses, certificates, and degree programs on campus, online, and on site to more than 4,000 students each year. CEHD is fully accredited by NCATE, and all licensure programs are approved by the Virginia Department of Education. George Mason University, located just outside of Washington, DC, is Virginia's largest public research university.
For additional information:
Follow CEHD on Facebook at www.facebook.com/MasonCEHD or Twitter at @MasonCEHD.