College of Education and Human Development
CEHD Alumni Receive DCPS Rubenstein Award for Highly Effective Teaching
Two alums of Mason's Graduate School of Education -- Scott David Harding, Jr. and Laura Amling -- are 2012 winners of the Rubenstein Awards for Highly Effective Teaching from DCPS.
* * *
Congratulations to Scott David Harding, Jr. and Laura Amling, two alumni of the Teach For America partnership with George Mason University's Early Childhood Education master's degree program.
The two were the preschool teachers honored this year with the Rubenstein Award for Highly Effective Teaching from the District of Columbia Public Schools. The awards are funded by David Rubenstein, co-founder and managing director of the Carlyle Group and chairman of the John F. Kennedy Center for the Performing Arts.
The Teach for America partnership at George Mason University offers TFA corp members with an opportunity to pursue a master's degree of education that leads to teaching certification in the District of Columbia. We're proud of Scott and Laura's accomplishments and recognition as highly effective teachers.
Scott David Harding, Jr.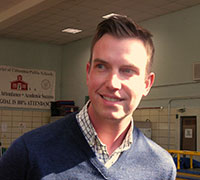 After teaching for two years, Scott Harding left the classroom to serve as an Early Reading First Literacy Coach. However, he missed having his own students to work with and so he quickly returned to his previous role as a classroom teacher. This year, Scott Harding is entering his third year as a teacher at Maury Elementary School where he is heavily involved in the school community – he has served as the Family Engagement Fellow for the Flamboyan Foundation and the LIFT ambassador.
As a preschool teacher, Harding says "everyday in the classroom is truly a combination of all of my passions: performing, planning events, building relations, and having fun." Using the Reggio principles and culturally responsive curriculum, his goal is "to make each child a researcher —- a true scientist, as they take ownership of their own educational process."
Laura Amling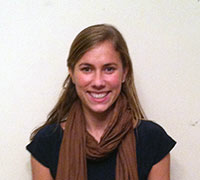 Laura Amling began her teaching career four years ago as a pre-school/pre-kindergarten teacher. She was inspired to become a teacher because of the impact that her own teachers had on her when she was in school, and because of a desire to instill those same lessons in her students. "I love helping the youngest DCPS students find their own self-confidence, fostering independence, and promoting self-advocacy," she said.
Outside of the classroom, Laura Amling continues to perfect her craft by taking advantage of professional development and teacher leadership opportunities. She has served as the grade level chair for the Powell early childhood team, spent a summer as a training specialist for Teach For America's early childhood education pilot at the Chicago summer institute, and is currently the early childhood content specialist for Teach For America's DC Region.
---
About CEHD
George Mason University's College of Education and Human Development (CEHD) includes two schools, the Graduate School of Education, which is the largest in Virginia, and the School of Recreation, Health, and Tourism. CEHD offers a comprehensive range of degrees, courses, licensures, and professional development programs on campus, online, and on site. The college is distinguished by faculty who encourage new ways of thinking and pioneering research supported by more than $75 million in funding over the past five years.
For additional information:
To receive a roundup of CEHD news via e-mail, subscribe to our news feed.
Follow CEHD on Facebook at www.facebook.com/MasonCEHD or Twitter at @MasonCEHD. Or subscribe to CEHD Connections, the college's occasional e-newsletter.