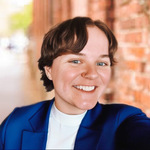 Contact Information
Phone: (703) 993-6840
Fax: This information is not available
Email: spower5 (@gmu.edu)
George Mason University
Fairfax Campus
Krug Hall 213A
4400 University Dr.
MS 4D2
Fairfax, VA 22030
Profile
Sammie Powers is an Assistant Professor of Recreation Management in the School of Sport, Recreation, and Tourism Management at George Mason University. She comes to Mason from Penn State, where she worked in the Department of Recreation, Park, and Tourism Management and earned her doctoral degree. Sammie's work focuses on justice, equity, diversity, and inclusion in the content of parks and recreation, with a focus on nature-based recreation resources. She has conducted work in a variety of contexts including urban parks and public spaces, state parks and forests, recreation and fitness centers, campus recreation, youth sports, and more.
Research Interests
Dr. Powers conducts research focused on justice, equity, diversity, and inclusion (JEDI) in the context of park and outdoor recreation resource management. Through this line of research, she not only identifies and implements more equitable processes for engaging diverse stakeholders in planning and management, but also examines how advancing JEDI in park and recreation contexts can facilitate greater support for funding, policy, and advocacy related to conservation and environmental stewardship. Much of her recent and current research focuses on understanding landscape values and preferences, visitor experiences, belonging, and environmental citizenship behaviors, including environmental stewardship, advocacy, and activism, among BIPOC communities. Dr. Powers uses quantitative, qualitative, spatial, and mixed-methods approaches. She conducts research with diverse stakeholders including, but not limited to, community members and organizations, stewardship or volunteer groups, community development corporations, conservation and environmental non-profits, land managers, and policymakers. Dr. Powers has authored numerous technical reports for local, state, and national organizations including needs assessments, outdoor recreation plans, provider assessments, and visitor use studies.
Recent Publications
Powers, S. L., Mowen, A. J., & Webster, N. (2023). Development and validation of a scale measuring public perceptions of racial environmental justice in parks. Journal of Leisure Research. Online first.
Powers, S. L., Webster, N., Agans, J. P., Graefe, A. R., & Mowen, A. J. (2022). The power of parks: How intergroup contact in urban parks can support prejudice reduction, interracial trust, and civic engagement for social justice. Cities.
Powers, S. L., Trauntvein, N. E., & Barcelona, R. J. (2022). Municipal stakeholders' perceptions of the importance and outcomes of multi-sector recreation partnerships. Managing Sport and Leisure, 27(4), 322-336.
Powers, S. L., Webster, N., Agans, J. P., Graefe, A. R., & Mowen, A. J. (2022). Engagement, representation, and safety: Factors promoting belonging and positive interracial contact in urban parks. Urban Forestry & Urban Greening, 69, 1-11.
Powers, S. L., Pitas, N. A., & Mowen, A. J. (2022). Perceptions of local parks and recreation as an essential community service during the COVID-19 pandemic. Journal of Park and Recreation Administration. Online first.
Courses Taught This Semester