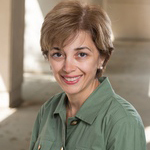 Contact Information
Phone: (703) 993-2009
Fax: (703) 993-3643
Email: fshahrok (@gmu.edu)
George Mason University
Fairfax Campus
Thompson Hall 1303
4400 University Dr.
MS 4C2
Fairfax, VA 22030
Profile
Farnoosh Shahrokhi, Ed.D. Associate Professor- Director, Division of Education Leadership- Co-Academic Program Coordinator, Education Leadership Program.
Areas of expertise include leadership preparation programs and leadership development in new democratic societies. International experience includes serving as the Academic Advisor for the Curriculum Development for Preservice Education and School Administration Leadership for Armenia Project and coordinating and delivering the education leadership component for the Middle School Social Studies Pre-Service Curriculum Development Project for Azerbaijan- Shahrokhi has been the Director and Principal Investigator (PI) for the Teaching Excellence and Achievement Program of the US Department of State's Education and Cultural Affairs Bureau from 2007-2018 and the Director of the 2017 Argentina Educators Training Program.
Dr. Shahrokhi has received her B.A in Psychology in 1991, her M.A. in Higher Education Administration in 1993, and her Doctorate in Education Administration and Policy Studies in 1997, all from the George Washington University.
Research Interests
Powerful learning experiences in leadership preparation programs, powerful learning experiences in teacher leadership and international teacher exchanges
Recent Publications
Recent Publication
Baily, S., Shahrokhi, F. & Carsillo, T. (Eds.) (2017). Experiments in agency: A global partnership to transform teacher research. Rotterdam, The Netherlands: Sense Publishers.
Courses Taught This Semester