College of Education and Human Development
'Proud moment'
By Jerome Boettcher
When it became apparent Sarah Fuller was going to make history, Kelly Keelan stopped the car.
The George Mason alumna veered off the side of the road on the way back to her parents' house outside of Philadelphia and turned the game on from her phone. Like so many others on Saturday, she wanted to see Fuller become the first woman to play in a Power 5 Conference college football game when she kicked off to open the second half of Vanderbilt's Southeastern Conference matchup against Missouri.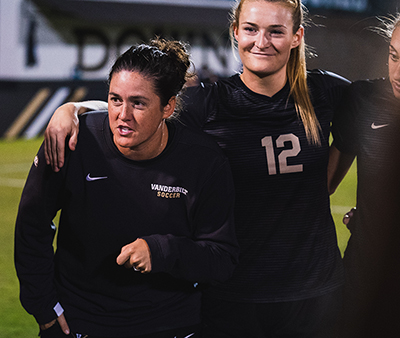 Mason alumna and Vanderbilt assistant soccer
coach Kelly Keelan
"I wanted to pull over, show my support, and take in the moment," Keelan said. "It was a proud moment. The fact she had the courage and the guts to just walk onto a football team—a SEC-level football team—without fear or hesitation is pretty impressive."
Keelan had more than a rooting interest, though.
As an assistant coach for the Vanderbilt women's soccer team in charge of the goalkeepers, Keelan watched Fuller grow over the last four years. Fuller overcame not only two foot injuries and a back injury but she also battled yearly competition for the starting goalkeeper spot—a position she won over for the last nine games this fall.
"She put her head down and just kept working and never quit," Keelan said. "Although we've had tough conversations with her about playing time, as it is a difficult position to win over at times and with her injuries, she just kept pushing. She wasn't going to hear the word 'no' anymore, and when the opportunity came to win the starting position, she took it."
Just one day after helping Vanderbilt win its first SEC women's soccer tournament championship in 26 years, Fuller once again chose not to say no. Asked to help a football team ravaged by COVID-19, she stepped up to the challenge and five days later delivered a gender barrier-breaking kick.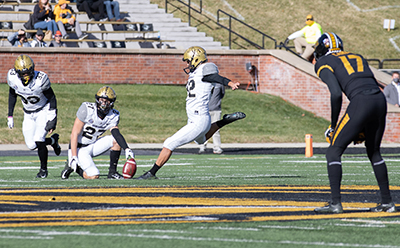 Keelan serves as goalkeepers coach for Sarah Fuller,
who kicked for the Vanderbilt football team on Nov. 28.
"What was really rewarding to me, watching this all happen, was that it wasn't this dream she had when she was 4 or 5 years old that she wanted to play college football and dedicated her whole life to this dream," Keelan said. "Somebody asked for some help and she could have easily gone home [for the semester break]… and relaxed finally after a long season. But her response was like, 'Yeah, sure. How can I help?' There was no intention of becoming famous or breaking this historic barrier when she said yes. But by being a team player she has now opened a door.
"She opened a door for girls to dream and that can say, 'That could be me one day.' All it took was somebody to be a team player, to say 'yes,' to make this all happen. She seized an opportunity that changed the game. She did it all on her own. As a coach, that's the proud moment."
Fuller's historic achievement has been just one of many memorable moments for Keelan in a coaching career that has spanned the last decade. Since graduating from Mason in 2010 with a bachelor's degree with a concentration in sport management, she has served on coaching staffs at Ohio University, the University of Pennsylvania and Georgetown.
Over the last six years, she has helped turn the Vanderbilt women's soccer team into a juggernaut in the SEC, coaching the forwards and midfielders in addition to the goalkeepers. The Commodores have qualified for four consecutive NCAA Tournaments, won an SEC regular season championship, snagged a divisional crown and, in November, captured the program's first SEC tournament title since 1994.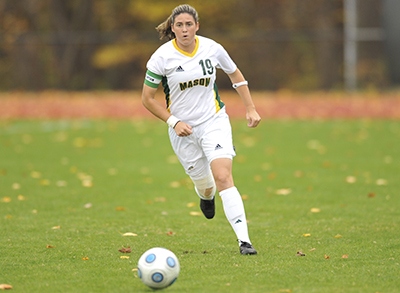 An all-conference standout, Keelan played
both forward and goalkeeper for the Patriots.
"It's been quite the journey. I've learned a lot," Keelan said. "I've really enjoyed helping build the program to where it is now. It is a collective staff effort and I appreciate [head coach] Darren [Ambrose] bringing me in with [associate head coach] Ken [Masuhr]… We knew we had a job to do. We wanted to compete. We wanted to win. We wanted to put Vanderbilt on the map again in a very positive way. It's been really fun to see the growth each year."
Keelan knew she wanted to be a coach before she arrived at Mason, but her time with the women's soccer team reinforced her passion for the sport.
An All-Colonial Athletic Association standout and team captain, she starred at both forward and goalkeeper. As a junior in 2008, she held the rare distinction of leading the Patriots in goals scored, points, saves, and shutouts.
"I had a very interesting soccer career having played multiple positions and I loved it," Keelan said. "I really enjoyed my time there and the experiences I had on and off the field."
In the classroom, Keelan quickly realized the degree she wanted to pursue after taking an introductory sport management course taught by current CEHD Interim Dean Robert Baker. The course "kickstarted" and "sold" the sport management program for her, and she turned to Baker for help and support throughout her college career.
Baker, the former director of the School of Sport, Recreation, and Tourism Management, recalls Keelan as an engaged student who was strategic in maximizing her education for the benefit of her long-term career.
"It became evident over time that moving into the leadership and coaching arena was something she was committed to, passionate about," Baker said. "She wasn't the kind of person who was going to let her advancement in coaching happen to her—she was going to make it happen. She was determined. I'm not at all surprised that she is advancing in coaching given that she is goal oriented, she is disciplined, she is ethical—all the things people want in a leader.
"She was displaying that kind of passion and dedication as a student."
Photos courtesy of Vanderbilt and George Mason Athletics