College of Education and Human Development
NSCA Foundation scholarship recognizes Mason Ph.D. student for her research on sports nutrition and body composition
George Mason University doctoral student Meghan Magee was named a recipient of the National Strength and Conditioning Association (NSCA) Foundation Women's Scholarship for 2022. Magee, who is pursuing her Ph.D. in Education with a concentration in kinesiology, was selected for this competitive scholarship from an exceptionally strong field of candidates vying for the award. The scholarship is designed to support women, ages 17 and older, to enter the field of strength and conditioning.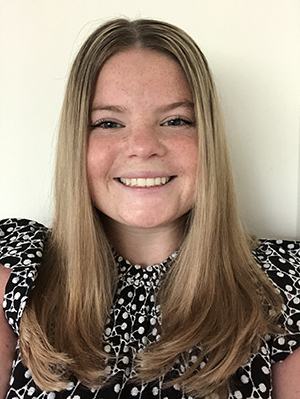 Meghan Magee
Under the mentorship of Mason faculty Dr. Margaret Jones, Magee's research focuses on low energy availability and body composition in athletes. When asked about what she finds the most interesting about the specialty area she has chosen to study, Magee stated, "My research interests surround improving health evaluation for athletes specifically in the areas of sports nutrition and body composition. The research I do allows me to work with a lot of people from varying specialties and interests. This in turn allows me to ask more questions to make strides toward improving athlete health."
Dr. Don Melrose, who serves as NSCA Foundation Board President, praised the selection of Magee for the scholarship. He commented, "She is an outstanding student with an extremely bright future. We are proud to support Meghan in her studies to be a future leader of the strength and conditioning industry."
The National Strength and Conditioning Association Foundation is a nonprofit organization founded in 2007 with the aim of supporting the advancement of strength and conditioning practical applications. The NSCA Foundation is committed to providing funding to NSCA members taking part in educational and research endeavors.
The Mason community congratulates Meghan Magee for her hard work and achievement in being selected for this prestigious scholarship award.