College of Education and Human Development
Phyllis Cofield Pajardo Scholarship Fund
Dr. Phyllis Pajardo joined the City of Fairfax Schools as Assistant Superintendent in August 2015 after retiring from Fairfax County Public Schools (FCPS). In August of 2017, Dr. Pajardo was named Superintendent of the City of Fairfax Schools.
Dr. Pajardo began as an elementary classroom teacher in 1981 and held a number of leadership positions throughout FCPS during her 34-year career. Dr. Pajardo became a consulting teacher, assistant principal, principal, staff developer, project manager, cluster director, and cluster assistant superintendent.
As a cluster director, she assisted with the oversight of 30 schools in the Westfield, Oakton, and South Lakes pyramids. She was later promoted to a cluster assistant superintendent where she was responsible for the instructional, management and administrative oversight of 27 schools in the Marshall, Madison, and Falls Church pyramids.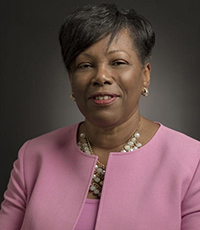 Dr. Phyllis Pajardo
From 2011-2015, Dr. Pajardo was the Assistant Superintendent for Human Resources for FCPS where she was responsible for recruiting, hiring and developing a diverse workforce for the district.
Dr. Pajardo earned her bachelor's degree in elementary education from the University of Virginia (UVA) and her master's in education from George Mason University (Mason). She completed her doctorate in education from UVA in 2009. She completed the executive leadership program for educators through the Curry School of Education and the Darden School of Business at UVA. She serves as an adjunct faculty member in leadership preparation/development for Mason, UVA, and Virginia Tech, as well as ASCD, and has given presentations at national, state, and local conferences.
Starting in December of 2021, the Phyllis Cofield Pajardo Scholarship Fund was created within George Mason's College of Education and Human Development (CEHD), to provide support for graduate level students pursuing either a Master's Degree in Education Leadership or a Master's in Education with an Educational Leadership concentration.
Recently, Dr. Phyllis Pajardo was able to attend a meet and greet with the first two recipients of her scholarship, Sarah Padilla and James Cruz, along with the George Mason University's College of Education and Human Development, Associate Director of Development, Mark Hall. Sarah Padilla, a Resource Teacher from Lake Braddock Secondary School said, "I am honored to be a recipient of this scholarship. I found my passion for education and pursued alternative licensure to obtain my license to teach K‐12 Spanish. Two years ago, I was named the World Language Department Chair and it sparked an interest in educational leadership. I enjoyed working with teachers to improve their craft and help them create meaningful experiences in the classroom for students. […] I hope to honor Dr. Pajardo in my work in FCPS and studies at GMU."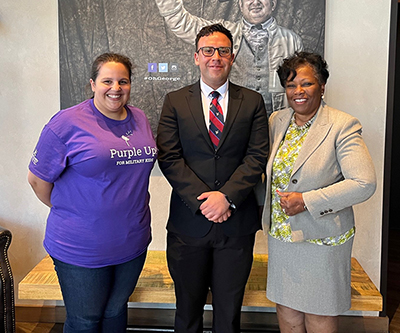 (left to right) Sarah Padilla, James Cruz, Dr. Phyllis Pajardo
James Cruz, a high school Social Studies teacher in FCPS, reflects on this recognition: "I have a deep gratitude for receiving the Phyllis Cofield Pajardo Scholarship Fund. As a first generation Hispanic American I've had the wonderful opportunity to receive a quality education within Loudoun County Public Schools. One of my heroes is Dr. Brewer, the principal of Dominion High School. As the founding principal of DHS, he took it upon himself to build a truly excellent and inclusive school community by putting his heart and soul into the profession. […] As a future leader, I aspire to work just as hard if not harder as Dr. Brewer in paying it forward."
Dr. Pajardo said of the evening and meeting with the recipients, "As expected, they are caring, committed, and knowledgeable graduate students who will be our next educational leaders. Both are teachers in Fairfax County Public Schools (FCPS). I'm extremely grateful to be 'giving while living' and to 'invest in our future leadership' as I retire."
Please join Dr. Pajardo and consider contributing to the Phyllis Cofield Pajardo Scholarship Fund, to continue supporting graduate level students pursuing educational leadership and making a difference in their schools and communities. Read more about this scholarship opportunity here!