College of Education and Human Development
Model of Upstanding Character
Editor's Note: On Jan. 26, former NBA star Kobe Bryant, his teenage daughter, Gianna, and seven others tragically died in a helicopter crash in Calabasas, Calif. One of the victims included John Altobelli, along with his wife, Keri, and their teenage daughter, Alyssa. John Altobelli was the longtime head baseball coach at Orange Coast College in Costa Mesa, Calif. George Mason alumnus Evan Porcella played for Altobelli for one year before transferring prior to the 2014 season to Mason, where he pitched the next three years. Porcella graduated in 2016 with a bachelor's degree in economics and a minor in sport management (he currently works as a senior associate at the accounting firm CliftonLarsonAllen in Washington, D.C.).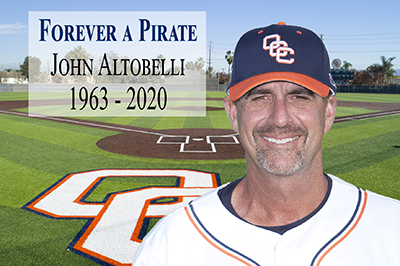 John Altobelli
While at Mason, Porcella enrolled in Sport Management 201 with Associate Professor Craig Esherick. One of the assignments for the class included conducting an informational interview with someone who worked full time in the sports industry in a career that the student would potentially want to work in upon graduation. The following is a copy of Porcella's paper from 2014 in which he details his interview with Altobelli, his former college baseball coach.
An Interview of Orange Coast College Baseball Coach John Altobelli
By Evan Porcella
Introduction
For this interview project I decided to interview my former junior college coach John Altobelli. John Altobelli is the head baseball coach for the Orange Coast College Baseball team, as well as the former manager of the Brewster White Caps in the prestigious Cape Cod League. I did not want to simply interview just an average person within the sports industry, rather someone I admire and respect. I do not just see Coach Altobelli as just another baseball coach, but rather a mentor for both me and all of the players that have played for him past, present, and future. He is a man of upstanding character and is the model for how I expect coaches to act. I have the upmost respect for him and when Coach Altobelli agreed to an email interview I was elated that he would take the time to help me out. But that is the kind of man he is, willing to help his players with anything they need whether that be something as simple as an academic interview or as serious as a death of a teammate.
Question and Answers
Question 1: Can you give me a brief background on your education, playing career, and jobs leading up to Orange Coast College?
Well after graduating from Newport Harbor High School I went on to play for our cross-town rival Golden West College (Golden West and Orange Coast College are just a few miles apart and are considered sister schools; you can take classes at either school but they have separate athletic teams). I played at Golden West as an outfielder for two years, and then transferred to the University of Houston. My senior season I was fortunate enough to play in an NCAA Regional and the following year play a season of minor league ball for the Miami Marlins. The following year I got my bachelor's in physical education. That was the most important thing. Baseball can take you guys to college and just maybe become a career for you guys but if you have the privilege to get a scholarship to play baseball you have to get that degree no matter how long it takes. After graduating from Houston I earned a master's in education from Azusa Pacific the following year. Following my master's I worked as an assistant coach under Mike Gerakos at UC Irvine for five years before I came to OCC.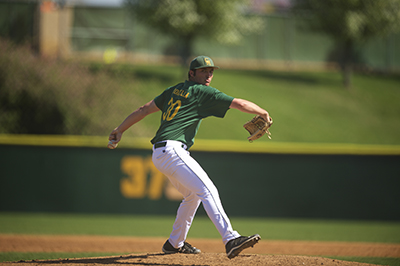 Evan Porcella
Question 2: Can you briefly explain the effect of Jourdan Watanabe on you and the whole program?
Jourdan Watanabe was a great guy. He was a fun-loving, upbeat, very athletic kid who we lost way too early. He got caught up in some off the field issues that I do not want to get into but he had a tremendous impact on my life as well as the entire 2009 team that won state. He brought our whole team closer together and helped me realize that baseball is not the end all be all. He really gave me some perspective and inspired me to take more interest in the personal lives of my players and to be there for them beyond the field. He will always be remembered in the program, and his father to this day is a volunteer assistant coach for us as the OCC baseball program and the Watanabe family now have a special bond.
Question 3: Why did you decide to become a coach?
I have a real love and passion for the game, and I wanted to share that love and passion for baseball with today's youth. The game can teach you a lot about life. Like baseball, life is not easy. There is a lot of failure in life, but life is not about your failures because it is inevitable; you will fail at some point in your life. Life is rather about your response to failure, how you handle adversity, how you make adjustments to get past adversity and find a way to succeed. The greatest joy I get from coaching is not just helping players get better on the field, but getting them ready to handle whatever life throws at them.
Question 4: What is your typical day like in the offseason compared to in season?
On a typical offseason day, I get into the office before 8:30 a.m. to answer some emails and do other office work before class. I then teach a table tennis class from 9-10:30, after which I complete my mandatory hour of supervision a day at the gym. By now its 12:30 and I throw early batting practice for my players before practice starts at 1:30. Practice typically runs from 1:30 to 4 but that all depends on the practice plan. After practice I do more office work and field recruiting calls for both my current players looking to move on to the next level and for potential incoming players.
During the season is rather similar. I get into the office a half hour before I teach table tennis at 9. However, I then go throw early batting practice at 11:30 for either a 12:30 practice or for a 2 p.m. game. After practices I do my mandatory hour of gym supervision and then either go watch a local recruit play or field calls for my players trying to move on to play in college, and after games I typically just go home.
Question 5: What do you like and what do you dislike about your job?
It's a really nice gig I have going here. I get to work roughly 9-5 doing what I love, I get to dress casually, and I get to enjoy time with my family in the summer now that I have retired from coaching the White Caps. I get to coach college baseball but I do not have to travel very far for recruits as most of my players live 90 minutes or less from school.
What I dislike about my job would be bad umpires. I'm just kidding but they do raise my blood pressure from time to time. I dislike the shrinking budget the school gives me to work with. It is hard to get good assistant coaches to work for free or very small stipends. Otherwise there isn't really anything I would want to change about my job.
Question 6: Final question, how would you describe the level of junior college baseball and what value do you feel it brings to its athletes?
Baseball is a tricky sport. Unlike football and basketball, the best high school baseball players go directly to the professional ranks. Then the really good players go to four-year colleges. This leaves junior college baseball in an interesting situation. Every player here is in a unique situation. A lot of the better junior college players either did not have the grades to go directly to a four-year school or were hurt during the time they should have been recruited. For both types of players, junior college baseball serves as a proving ground for them to go on to the next level. Can you prove that you are dedicated enough to get it done in the classroom and can you prove that you are healthy enough to stay on the field? Also, some players just simply develop later than others. They either get physically bigger and stronger later than most kids or they just figure out how to better use the tools God gave them. So I feel that it provides a tremendous value to its student athletes. I also feel that the level of competition here is rather high. The vast majority of players in our conference (Orange Empire Conference in the California Community College Athletic Association) go on to four-year colleges whether that be Division I, II, or III, and NAIA. Therefore, I feel that our conference provides coaches and scouts a good evaluation of talent because if you can perform in our conference you can play just about anywhere.
Conclusion
In my interview of Orange Coast College Baseball Coach John Altobelli, I discovered a real admiration for what his role is in the baseball community. His role of providing a proving ground for athletes to show that they are ready for the next level and providing instruction for both the game of baseball, as well as life, shows the real value of a junior college baseball coach. Therefore, I continue to have the upmost respect for what he does for his players and the baseball community as a whole. If I were to find myself attempting to enter this career field I would seriously have to determine my desire to help people as the entry level jobs in this field do not pay well, if at all. However, if I get past that aspect I would love to have the role that Coach Altobelli currently fills. Thus, I will not rule out the possibility of coaching at the two- or four-year college level in my future.