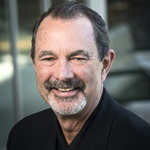 Contact Information
Phone: (703) 993-9922
Fax: (703) 993-9707
Email: cesheric (@gmu.edu)
George Mason University
Fairfax Campus
Krug Hall 213D
4400 University Dr.
MS 4D2
Fairfax, VA 22030
Profile
Professor Esherick was a scholarship basketball player at Georgetown University while earning an undergraduate finance degree. He attended the Georgetown University Law Center and also was a graduate assistant basketball coach for two of those years. After graduating from law school and passing the DC Bar, Professor Esherick became a full-time assistant coach at Georgetown for the men's basketball team. His tenure as an assistant lasted 17 and a half years and included a stint as an assistant basketball coach and scout for the USA Olympic Team that won a bronze medal in the 1988 Seoul Olympics. Craig became the head basketball coach in 1999 at Georgetown University and held that position long enough to win 103 games. He worked briefly for AOL's new online radio venture from 2004 until 2005, where he commented on-air about college basketball news and wrote articles for the AOL Sports website. Professor Esherick took a job with a startup television network in New York in May of 2005; that network, CSTV, has now become CBS College Sports. Esherick came to Mason from NYU, where he taught in their Graduate Sport Management program for two years.
Sports Diplomacy Press Release, check it out here.
Washington Post story about Professor Esherick, check it out here.
Arlington Magazine profiled Professor Esherick, check it out here.
Research Interests
Basketball History; US and International
Sport for Development, Diplomacy and Community Building
The club sport system in Europe
Interscholastic and Intercollegiate Athletics
Coaching, parenting and leadership in youth sports
Media and sports
Sport Management
Recent Publications
Craig wrote his first textbook, Media Relations in Sports, with Brad Schultz (Ole Miss) and Phil Caskey (WVU). This book was published in the summer of 2010. Craig's second textbook was published in February of 2013, Fundamentals of Sport Management, which he co-wrote with Dr. Robert E. Baker (GMU). Two more editions of Media Relations in Sport were published in 2014 and 2020; Craig was the editor, along with a writer of the 2020 edition. Esherick was the lead editor for Case Studies in Sport Diplomacy which was published in 2017. A book titled Sport for Development and Peace (with Robert E. and Pam Baker), published in 2022, was edited by Craig and he also wrote a chapter on how for-profit sport organizations engage in this activity
Professor Esherick has had several encyclopedia entries, book reviews, journal articles and a chapter published in nine different works; History of Sport Encyclopedia, Sports Management and Marketing Encyclopedia, Journal of Issues in Intercollegiate Athletics, History and Sport, Journal of Sport for Development, International Journal in Sport Management and Marketing, H Diplo online journal, Leadership in Sport and Cultures of Peace (Sports Based Peace Initiatives). Esherick serves on several Arlington and Fairfax County boards and committees. He worked with the US Department of State on a multi-million dollar sport visitor's cooperative grant that spanned seven years and brought 90 groups to Mason and the US from all over the world. Professor Esherick has served as a State Department sport envoy to the countries of Azerbaijan and Mauritania. He also provides expert commentary for news outlets, television and radio during college basketball season, primarily for local and regional sport networks.
Other Information
Teaching:
Consumer Behavior in Sports
Economics and Finance of Sports Industry
Governance and Policy in Sport Organizations (SPMT 455)
Introduction to Sport Management (SPMT 201)
Practicum (SPMT 241)
Sport in Higher Education Special Topics (SPMT 480)
Sport Law (EFHP 598)
Theoretical Models of Sport Coaching (SPMT 631)
Campus Affiliations
Division of Sport, Recreation, and Tourism