College of Education and Human Development
Math Professor Takes Positive Ideas on Math to South Korea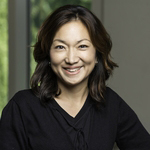 In South Korea, students' abilities in mathematics are extremely high. But there's an issue.
"The achievement is so high but the attitude toward it, the feeling toward it, is so negative," says Jennifer Suh, an associate professor of mathematics education at Mason. "So they needed to do something."
One thing the Korea Society of Educational Studies in Mathematics did is invite Suh, as well as two Mason doctoral students, to the country for a whirlwind week-long trip in September. In just a few days, Suh led two workshops and participated in a National Assembly forum.
Stateside, Suh has worked on two projects that informed her presentation at the National Assembly. One involves her own classroom-based research, conducted with teachers and students in Northern Virginia. The idea was to inspire students—and empower their teachers—by giving kids math exercises that revolved around setting up a coin harvest in which they could help their community, and having them work to optimize the money they had to achieve their goals.
Another piece of research was done alongside Andrew Gilbert, a member of the CEHD faculty who has taught science in Washington, D.C. and served as program director of elementary education at the Royal Melbourne Institute of Technology in Australia. Suh and Gilbert ran a free STEM camp for students, as well as a workshop for teachers to integrate STEM into their elementary curricula.
Many of the educators in South Korea took to the ideas.
"I was encouraged to see teachers at all levels who are taking seriously this idea of really engaging their students and making mathematics relevant and engaging," says Kathy Matson, a CEHD Dean's Scholar who accompanied Suh on the trip (along with Sara Birkhead, a Presidential Scholar).
Though there may appear to be a big gap in how the two countries approach math education, the two doctoral students found much in common, as well.
Birkhead commented, "While it seems, on the surface, that their widespread mathematics success on international tests might mean that we are dealing with very different problems, actually we found that many of the researchers and policy makers we met had similar interests to our own: how to make math instruction more engaging and meaningful, how to shift education in a political and cultural landscape that may not support the changes we see as important, and how to support teachers in changing their instructional focus."
In addition to the work that Suh, Birkhead, and Matson did with South Korean teachers during the National Assembly forum and smaller workshops, they were able to take time to see one of South Korea's monuments to math—the Math Cultural Experience Center, a destination envisioned by a local school teacher designed to put forth the idea that math can be a truly enjoyable experience.
The trip went well overall—for both the U.S. and South Korean sides. In fact, Suh has been invited back in January to continue the work she started in September. It's an exciting sign that the sharing of information between the two countries could be more than just a flash in the pan.
"Maybe this collaboration could be multi-fold," she says. "Not just a forum and a workshop, but perhaps kind of a collegial exchange."