College of Education and Human Development
Mason doctoral candidate selected to win prestigious 2024 Virginia Teacher of the Year award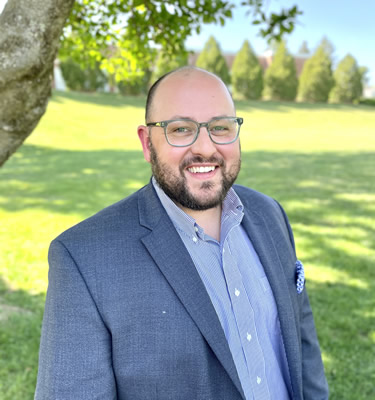 Jeffery W. Keller, a doctoral student at George Mason University's School of Education, was recently named the 2024 Virginia Teacher of the Year. The announcement was made by Governor Glenn Youngkin during a livestreamed event held on May 18th in Richmond, Virginia. Keller is a history teacher at John Handley High School in Winchester, Virginia and is currently pursuing his PhD in Education with a primary specialization in Teaching and Teacher Education at Mason. Upon being named recipient of this prestigious award, Keller stated, "It's exciting. It's validation for hard work and long hours...I am thankful for my students too, it's really for them. They're what it's all about."
Keller was one of eight individuals chosen to represent their respective school districts as the 2024 regional teacher of the year. Following an interview with each of the commonwealth's eight regional winners, a Virginia Department of Education selection committee named Keller as the winner of the commonwealth award. Keller will now be representing Virginia on the national stage as nominee for 2024 National Teacher of the Year. The winner of the national competition will be announced next spring during a ceremony to be held at the White House.
In a Virginia Department of Education news release, Virginia Superintendent of Public Instruction Lisa Coons stated, "Jeffery encourages each of his students to set high goals and creates pathways for them to achieve excellence...I am looking forward to visiting Handley High and watching him in action. Jeffery and our other regional teachers of the year are going to be outstanding ambassadors for the commonwealth's teachers and public schools."
A short video of the announcement made by Governor Youngkin of Keller's selection as recipient of the 2024 Virginia Teacher of the Year award is available on the Virginia Department of Education website and may be accessed here.
To learn more about the PhD in Education with a specialization in Teaching and Teacher Education (TATE) that is offered through Mason's School of Education within the College of Education and Human Development, please click here.