College of Education and Human Development
Gracious Legacy
Sam Steen remembers walking into the office of College of Education and Human Development Dean Jeff Gorrell and admiring an abstract painting on the wall.
Steen was a PhD student at the time, learning under the tutelage of Gorrell. Figuring Gorrell purchased the painting, he asked who the artist was. Much to the surprise of Steen, Gorrell casually remarked as they headed out of his office that he had painted the piece.
"Here is this dean who can paint," Steen recalls thinking. "That stuck out to me."
Steen learned much more about Gorrell after Steen finished his doctorate in counselor education from George Mason, and the two continued a friendship that extended beyond Steen's professional development.
Gorrell left a lasting impact on CEHD, his former colleagues, students, and friends. The dean of CEHD for more than eight years, Gorrell passed away on May 2 at his home in Oakton, Va. He was 74.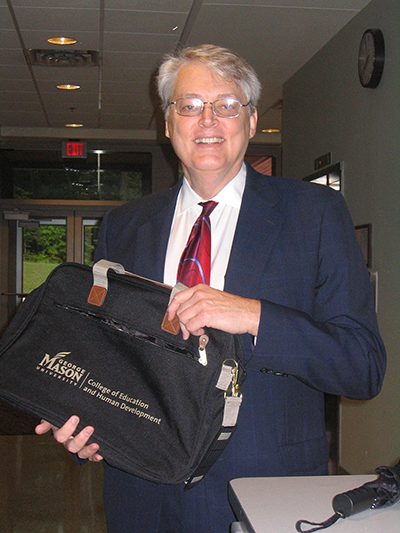 Jeff Gorrell
He is survived by his two brothers, Brian and Alan, along with five nephews, three nieces and numerous great nieces and nephews. A memorial service will be held at a later date in Gorrell's hometown of Glasgow, Ky.
"Jeff Gorrell was the dean who hired me here at Mason," Interim Dean Robert Baker said. "He was a very kind and approachable person. I can remember engaging in conversations about a wide range of topics, and I always gained insights from those conversations. He'll be remembered as a wonderful educator and an even better person."
A longtime educator, Gorrell served as dean of CEHD from 2001-09. He later returned to teach classes as professor emeritus until retiring in 2012.
He graduated from Vanderbilt University with his bachelor's degree in English before earning both his master's degree in English and his doctorate in educational psychology from the University of Florida. He taught at Southeastern Louisiana University and served as associate dean of education at Auburn University before arriving at George Mason.
He was also awarded a Fulbright scholarship to Sri Lanka, which led to conducting research with the Ministry of Education over a 12-year period related to the cognitive growth of Sri Lankan children.
In addition to serving as dean, Gorrell was a professor in educational psychology and conducted and published extensive research on cognitive modeling and teacher efficacy.
"He would talk about how much he enjoyed [George Mason]" Alan Gorrell said. "He just enjoyed life."
After retiring, Gorrell reignited his passion for painting, which he had started back in 1992 while at Auburn. A talented artist, he specialized in watercolors and was a member of the Vienna Arts Society, the Potomac Valley Watercolorists, the Virginia Water Color Society, and the National Watercolor Society. He often worked at his studio at the Workhouse Arts Center in Lorton, and many of his paintings can be viewed at jeffgorrell.com.
Interim Provost Mark Ginsberg, who succeeded Gorrell as dean of CEHD in 2010, remembered Gorrell as a mentor and friend.
"A well-known scholar and respected teacher, he was a kind, caring, and gracious man," Ginsberg said. "As I came to Mason, he was so very helpful to me. He always was there, and available to assist and support colleagues and students. We miss him and always will remember and appreciate his contributions as CEHD's leader."
For Steen, Gorrell helped kick-start his career as a college professor. Already accepted into George Mason's doctorate program for counselor education, Steen was chosen by Gorrell as one of the first two Holmes Scholars at George Mason. Through the American Association of Colleges for Teacher Education, the Holmes Scholars Program supports underrepresented communities who are pursuing graduate degrees in education with the hope of encouraging professional jobs in academia.
Steen served as a graduate research assistant within CEHD under professors Fred Bemak (counseling and development), Penelope Earley (education policy), and Anastasia Kitsantas (educational psychology). Steen also learned under Gorrell, who allowed him to sit in executive-level meetings at CEHD and was "kind enough to let me think out loud without being judgmental."
"I had no desire to be a professor, but the Holmes Scholars Program opened the door under his leadership," Steen said. "To have someone in my corner during my budding career was quite encouraging."
Steen and Gorrell stayed in touch after Steen left Mason, taking teaching positions at nearby George Washington University and later at the University of Arizona. At Arizona, he served as the faculty chair of the counseling program for two years before arriving back at Mason this past fall as an associate professor in the Counseling and Development program.
Steen's return to Northern Virginia allowed him to rekindle his friendship with Gorrell. The former teacher and pupil met weekly for lunch as their friendship blossomed even more, with existential conversations the norm. Steen's daughter, Madeline Claire, and son, Tristan Oliver, both painted with Gorrell. When Gorrell's health began ailing, Steen drove Gorrell to doctor appointments around town.
Steen said he hoped outsiders seeing a black man in his 40s and a white man in his mid-70s out enjoying each other's conversation and company could "break down barriers and assumptions of people."
"Jeff was very gracious in his interactions with people," Steen said. "Gracious in how he served others. Gracious in his commitment to social justice. He was also very generous—with his resources, with his encouragement, with his wisdom. And he was gifted both artistically and in his scholarship. I will deeply miss him, not short term but over the course of my life."