College of Education and Human Development
Get Fit! Register for Fun Mason Fitness Courses
Oh, the pleasures of the ski slope. The magnificent views, the adrenaline rush, the great workout... and the college credits? It's true.
By Leah Kerkman Fogarty
* * *
Anyone at George Mason University can sign up and take a myriad of exciting wellness and fitness classes to get moving and keep fit, from the traditional (like yoga, pilates, soccer, or karate) to the adventurous (like snowboarding, indoor rock climbing, or trap and skeet shooting).
The classes are available through the School of Recreation, Health, and Tourism (RHT) and are called Physical Activity for Lifetime Wellness (PALW) classes. The classes are open to the general university population and are geared toward beginners, so no prior experience is required.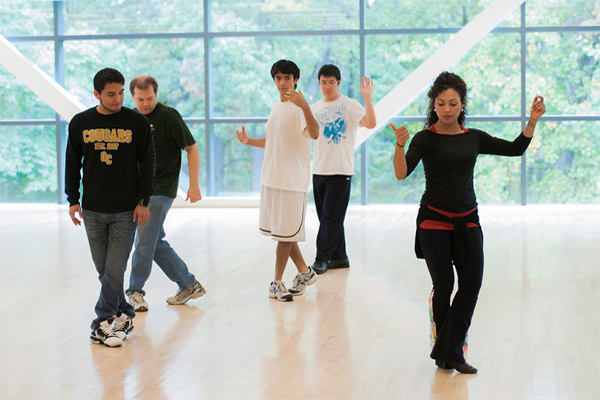 Lifetime fitness and general wellness
Dominique Banville, director of the Division of Health and Human Performance, says that these courses started as simply physical education but the more recent focus has been on fostering the goal of lifetime fitness and general wellness for all students.
"With the rise of obesity at all age levels, humans simply have to become more active than we are now," she says. "Society is increasingly becoming sedentary — and it shows."
The aim with the PALW courses, then, is to teach students about a specific physical activity and encourage them to embrace it now and in the future. But staying healthy doesn't have to mean treadmills and reps. Recent course additions to the physical education classes have included Krav Maga, the Israeli system of self defense, and meditation.
(See this recent article in The Broadside called "Pistol Marksmanship Popularity Grows").
Dropping a pants size isn't the only benefit students can expect from enrolling in one of the PALW classes, either.
"Participants in PALW courses can expect to improve general overall wellness through stress reduction and improved fitness," says Nancy Jacobson, coordinator of the PALW program. She also points out that regular exercise has shown to have benefits in the area of academics, according to recent research. "Health is the one gift you give to yourself," she says. "It's the one subject that you use every day and for the rest of your life."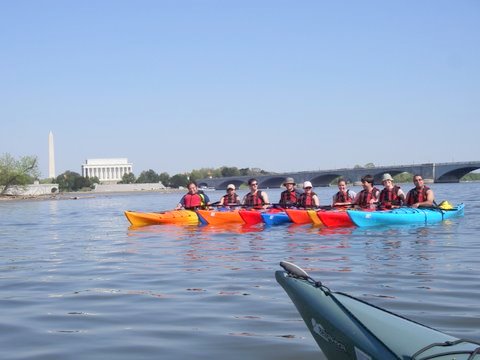 It's academic
Most of the PALW courses meet for half of a semester and are 1 credit hour each. For example, downhill skiing and snowboarding — two classes offered in the spring semester — are completed by the end of February, meeting for three Sundays at a ski resort in Pennsylvania. Similarly, the backpacking course offered next semester requires four day-long excursions.
While this schedule allows students to immerse themselves into their newfound pursuit more deeply, organizers also hope it allows more flexibility for students who may have a large course load during the school week to participate, as well.
But make no mistake about it — these are academic classes with the same expectations of assessment as any other college course. "Students will be assessed on knowledge, rules, and gross motor skills," says Banville. "Some classes require the students to journal about their experiences; it's not just pick-up soccer."
PALW courses are designed for everyone at Mason, explains Jacobson, including faculty and staff members. "All you need is enthusiasm and a willingness to have fun," she says. "Whether you want to get back into an old hobby like yoga, skiing, basketball, or volleyball, or whether you want to do something new like Latin dance, trap shooting, or whitewater kayaking, try something totally different. Why not have a little fun while you earn a few credits?"
How to register
New courses are offered frequently, often at student suggestion. To register:
Go to the University Catalog and click on the left on Schedule of Classes.
Go to Search by Term and select "Spring 2013."
Under Class Schedule Search, select "Parks, Recreation, and Leisure Studies [PRLS]" and/or "Physical Education [PHED]".
* * *
Courses offered in Spring 2013
The following are the one- and two-credit fitness and activity courses offered at George Mason University in Spring 2013.
Aerobics
PHED 105 – Aerobics/Basic Conditioning
Aquatics and Water Sports
PHED 255 – Basic Scuba Diving
PHED 110 – Beginning Swimming
PHED 150 – Intermediate Swimming
PHED 159 – Advanced Swimming
PHED 158 – Underwater Hockey
Dance
PHED 113 – Latin Dance
PHED 107 – Social Dance
Golf and Bowling
PHED 140 – Golf
PHED 144 – Intermediate Golf
PHED 162 – Intro to Bowling
PHED 167 – Advanced Concepts/Strategies in Bowling
Martial Arts
PHED 145 – Beginning Judo for Men and Women
PHED 138 – Brazilian Jiu-Jitsu
PHED 139 – Brazilian Jiu-Jitsu II
PHED 103 – Fencing
PHED 179 – Intro to Krav Maga
PHED 163 – Karate
PHED 164 – Intermediate Karate
PHED 134 – Self Defense – Men and Women
PHED 135 – Self Defense – Men and Women II
PHED 136 – Tae Kwon Do
PHED 137 – Intermediate Tae Kwon Do
Other Outdoor
PRLS 120 – Intro to Backpacking
PRLS 173 – Basic Coastal Kayaking
PRLS 110 – Exploring Outdoor Adventures
PRLS 115 – Intro to Fly Fishing
PRLS 122 – Intro to Horsemanship
PRLS 117 – Rock Climbing
Racquet Sports
PHED 151 – Intro to Tennis
PHED 153 – Intermediate Tennis
PHED 165 – Intro to Racquetball
Skiing and Snowboarding
PRLS 190 – Downhill Skiing
PRLS 191 – Snowboarding
Shooting
PRLS 124 – Pistol Marksmanship
PRLS 119 – Trap and Skeet Shooting
PRLS 121 – Intermediate Trap Shooting
Team Sports
PHED 120 – Intro to Basketball
PHED 176 – Intro to Cricket
PHED 102 – Intro Soccer
PHED 182 – Intermediate Soccer
PHED 174 – Intro to Volleyball
Weight Training
PHED 108 – Weight Train/Body Condition
Yoga and Pilates
PHED 181 – Intro to Meditation
PHED 131 – Intro to Pilates
PHED 178 – Intermediate Pilates
PHED 149 – Tai Chi
PHED 129 – Intro to Yoga
PHED 130 – Intermediate Yoga
---
About CEHD
George Mason University's College of Education and Human Development (CEHD) includes two schools, the Graduate School of Education, which is the largest in Virginia, and the School of Recreation, Health, and Tourism. CEHD offers a comprehensive range of degrees, courses, licensures, and professional development programs on campus, online, and on site. The college is distinguished by faculty who encourage new ways of thinking and pioneering research supported by more than $75 million in funding over the past five years.
For additional information:
To receive a roundup of CEHD news via e-mail, subscribe to our news feed.
Follow CEHD on Facebook at www.facebook.com/MasonCEHD or Twitter at @MasonCEHD. Or subscribe to CEHD Connects, the college's occasional e-newsletter.