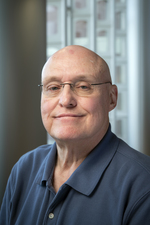 Contact Information
Phone: (703) 993-2027
Fax: (703) 993-2025
Email: jkozlows (@gmu.edu)
George Mason University
Science and Technology Campus
Katherine G. Johnson Hall 220
10890 George Mason Circle
MS 4E5
Manassas, VA 20110
Profile
Dr. James C. Kozlowski is a licensed attorney and a term associate professor in the School of Recreation, Health, and Tourism (RHT) at George Mason University. He began his affiliation with George Mason University as an adjunct faculty member in the Parks and Recreation curriculum in 1983.
In 2011, the American Academy for Park and Recreation Administration selected Dr. Kozlowski as one of the "Legends in Parks and Recreation," an honor recognizing "distinguished administrators and educators who have made outstanding contributions to the field of parks and recreation." Dr. Kozlowski has also received the 2007 Distinguished Professional Award from the National Recreation and Park Association (NRPA) which is presented to "those in the parks and recreation field who, through inspiration, incentive, and demonstrated leadership, have made noteworthy contributions over time to the recreation, park, and conservation movement."
In 1985, Kozlowski received the National Literary Award from NRPA which is presented to "a writer or publisher who has made a significant contribution to the understanding of new innovations or refined philosophic thoughts and tenets, trends, or research in parks, recreation, and conservation." Dr. Kozlowski has written extensively on the legal and legislative aspects of parks and recreation administration in general and the issue of recreational injury liability in particular. His publications have included the monthly "Law Review" column in Parks & Recreation magazine which he initiated in January 1982. In addition, he developed and wrote the quarterly Recreation and Parks Law Reporter for NRPA from 1984 to 2002.
Kozlowski has been admitted to the practice of law in the District of Columbia (1981), Virginia (1984), and Maryland (1985), as well as various federal courts.
Dr. Kozlowski received his Ph.D. in Recreation Administration from the University of Maryland (1986) and his Juris Doctor degree from the University of Maryland School of Law (1980). He also holds a Master of Science in Leisure Studies (Outdoor Recreation) from the University of Illinois (1976), as well as a Master of Arts in Teaching (English) degree from the University of Chicago Graduate School of Education (1973), and a Bachelor of Arts degree in Humanistic Studies from The Johns Hopkins University (1972).
Research Interests
Legal and Legislative Aspects of Recreation
Recreational Injury Liability
Park Resources Law
First Amendment Issues in Parks and Recreation
Disability Rights Law in Sport and Recreation
Courses Taught This Semester