College of Education and Human Development
Virtual Workshops
By Greg Sullivan
Chrissy McLaughlin completed George Mason's Learning Technologies in Schools master's degree in the College of Education and Human Development (CEHD) two years ago, focusing on blended and virtual learning.
Currently a teacher at Lees Corner Elementary School in Chantilly, Va., McLaughlin now finds herself with an expertise that has become critically important as Fairfax County Public Schools and school districts around the country have had to rely much more on virtual learning due to the coronavirus pandemic.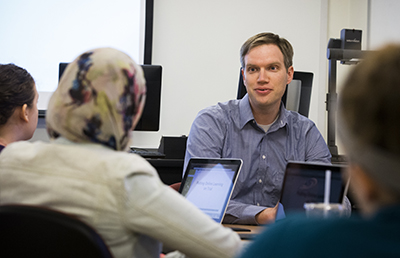 Associate Professor Jered Borup
"Online learning is such an important issue right now because all of us, students and teachers, are in this new uncharted territory," said McLaughlin, who teaches sixth graders. "Our goal needs to go beyond instruction. We need to build relationships with our students and show them that we see them, we care, and we are here to support them. When our students feel connected and cared for, the learning will follow."
Aside from their own teaching, one of the ways McLaughlin and fellow program alumni, along with some current master's degree students, have been making a big difference has been by helping to train their teaching peers locally and across the country.
Working with Learning Technologies in Schools Associate Professor Jered Borup, Mason alumni and students have created and conducted online presentations on how to improve virtual teaching by offering virtual workshops for Fairfax County Public Schools, as well as invited presentations for Fox Mill Elementary School in Herndon and elsewhere.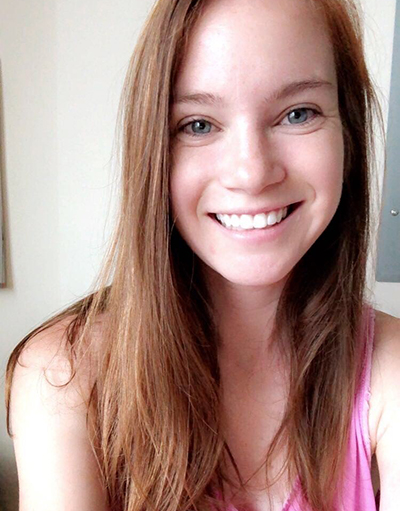 Mason student Bridgette Joskow
"I try to present with my students publicly as much as possible," Borup said. "They're the best part of the presentation for the participants, to be honest. I think having them adds a lot of relevance and weight to what I'm saying, and teachers can see themselves in those presenters. Whenever possible, if I'm visiting an elementary school, I try to get an elementary school teacher to present, and if I'm visiting a high school, I try to get a high school teacher to present."
Bridgette Joskow, a Mason student and a current teacher at Fairfax County's Oakton Elementary School, presented with Borup and McLaughlin in a workshop offered twice this fall for Fairfax County Public Schools teachers, titled "Building Connection & Community While Apart." It was a direct response to what teachers have been facing during the pandemic.
"Presenting with my other presenters was awesome," said Joskow, who graduates with her master's degree next spring and was giving her first-ever presentation outside of her own familiar school setting. "The topic was integral for all of us teachers this school year, and while I was presenting to a group of educators, I walked away from the experience with so many additional ideas and tools to use for my own fifth-grade class."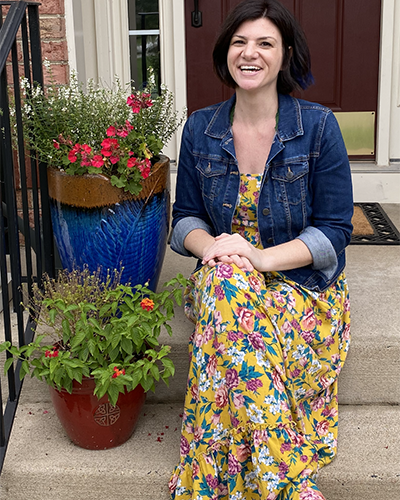 Mason alum Chrissy McLaughlin
Current graduate student Jacob Nawrot, who teaches art at Franconia Elementary School in Alexandria, presented for Fox Mill Elementary School teachers as part of a group that included Borup.
"My goal was to provide teachers with ideas for how they could organize learning modules that could be used for synchronous or asynchronous instruction," said Nawrot on the presentation, titled "Personalizing Learning in a Virtual Environment." "I focused on creating an instructional video that would promote teacher presence and provide students with optimal views of hands-on instruction."
McLaughlin's three presentations earlier this fall focused on handling the pandemic and student engagement with students online. She said getting the most out of online tools in teaching is often more than many may think.
"Teaching online is not as easy as taking what was done in the classroom and shifting it to a virtual space," said McLaughlin, who credits the CEHD master's program for taking her online teaching to a new level. "As educators, we should consider how we can leverage technology to amplify and transform learning to continue to provide rich opportunities for our learners."
Meanwhile, Borup said he commends the adapting and challenging work being done by so many teachers locally and beyond. He agrees with McLaughlin that schools and teachers can continue to learn lessons for how to best move forward.
"The pandemic will end. We don't know when, but eventually teachers and students will be returning to the classroom," Borup said. "I don't think we want to go back and teach and learn the same way we've always done it."