College of Education and Human Development
Mason faculty promote personalized learning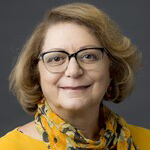 Dr. Nada Dabbagh
Dr. Nada Dabbagh, professor in the Learning Design and Technology program at George Mason University's School of Education within the College of Education and Human Development, is co-author of a new book titled Designing Personalized Learning Experiences: A Framework for Higher Education and Workforce Training. Co-authoring the book was Dr. Helen Fake, adjunct professor in the Learning Design and Technology program who previously studied under Dr. Dabbagh while pursuing her doctoral degree at Mason.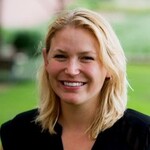 Dr. Helen Fake
There has long been a significant body of research on personalized learning in the K-12 environment. However, research on the application of personalized learning in the higher education arena and the workforce development and training space is limited. This book delves into these areas and offers practical guidance and strategies on how to design and implement effective personalized learning interventions to: advance learning in an organization; increase engagement of workers in continuous and lifelong learning opportunities; decrease attrition in current professional development programs that are static, outdated, or instructor driven; encourage an individual's personal ownership over their own learning; and, develop employees and retain talent within the workforce.
The book describes how personalized learning can encompass a broad range of activities ranging from those in which the learning system itself does the personalizing based on how well the learner performs, to those where the learner has autonomy to personalize the instruction or training based on their personal learning goals. In authoring the book, the writers chose to focus on the approach where the learner is responsible for personalizing their own learning experience—one which the authors believe is a more effective approach to personalized learning for adult learners.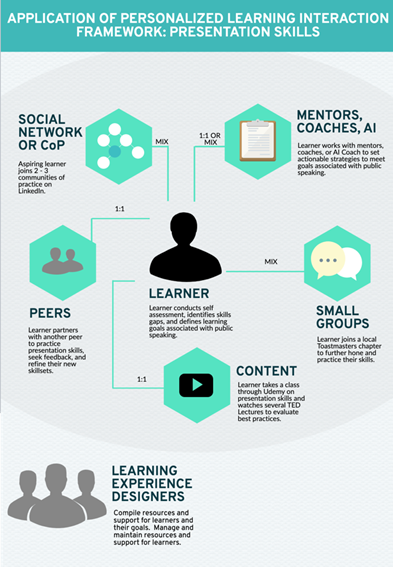 Pictured above is an illustration of how the PLIF can be used in practice.
Dr. Dabbagh observed that a key takeaway of the research contained in the book is that personalized learning requires connections to social networks and communities of practice both within and outside an organization. These connections will facilitate the learner's ongoing engagement with peers and others which will lead to a more meaningful and deeper learning experience. To this end, the book introduces the reader to the Personalized Learning Interaction Framework (PLIF), a multi-level technology supported framework that enables the learner to direct their own learning to achieve their learning goals and engage in continuous and lifelong learning. The PLIF centers on five types of learner interactions briefly described as follows:
Learner-content interactions (including best practices for content design and distribution);
Learner-learner interactions (I.e., the impact of peer feedback in the learning process);
Learner-social network interactions (an overview of how learners leverage communities of practice to enhance their learning);
Learner-mentor, coach, or Artificial Intelligent (AI) Assistant interactions (differences between mentorship and coaching as learning strategies and the role of artificial intelligence in designing and leveraging coaching and mentorship functions); and,
Learner-small group interactions (developing strategies for collaboration and other forms of engagement as part of the learning process).
Dr. Dabbagh's decision to co-author this book was prompted by her interest in facilitating the design of Personal Learning Environments (PLEs) and she refers to a previously published paper in which she concluded, "...In the 21st century, PLEs have been steadily gaining ground as an effective platform for student learning and have been described by scholars such as Brigid Barron, Stephen Downes, Tom Haskins, Scott Wilson, and Mark van Harmelen as individual educational platforms, self-initiated and interest-driven learning environments, unique creations of individual learners that help shape their knowledge and understandings, self-directed learning systems, and methods and tools that help students organize and self-manage their learning." (Dabbagh, N. (2015). Personal Learning Environments (PLEs). In M.J. Spector (Ed.), SAGE encyclopedia of educational technology (pp. 572-575). Thousand Oaks, CA: Sage Publications).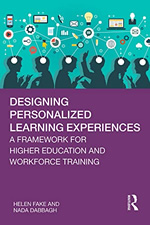 Dr. Dabbagh highlights the concluding message of her new book, "...Learning can no longer be understood by focusing solely on cognition, development, or the behavior of individual learners; neither can it be understood without reference to its situated, sociocultural and lifelong nature, the tools through which learners construct meaning, and the context in which these tools are used."
With the growing need for organizations to invest in workforce training and development to maintain a competitive edge and to ensure employees stay current in the skills needed to perform effectively in an ever-changing environment, this book is a valuable resource. Published by Routledge, the book is available in hardback, paperback, or as an eBook. The book is also available for purchase on Amazon.
For information on the degree offerings in Mason's Learning Design and Technology program, please visit our website.