College of Education and Human Development
Mason Associate Professor Dr. Sue Slocum is editor of a newly published book on discrimination in tourism practices
Dr. Sue Slocum, Associate Professor in George Mason University's School of Sport, Recreation, and Tourism Management (SRTM), is editor of a newly published book titled, "Inclusion in Tourism—Understanding Institutional Discrimination and Bias." The book addresses discrimination and marginalization in tourism practices with in-depth analysis provided by authors from six different countries.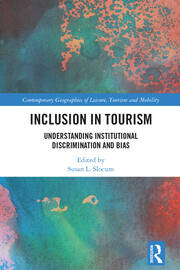 Inclusion in Tourism
The book is divided into two sections. The first part focuses on policies affecting tourism that are discriminatory in nature, whether intentional or not, and illustrates ways to overcome these challenges to achieve a positive outcome. Some of the issues covered in the first part of the book include Canadian immigration policy and its impact on tourism employment, a history of racism and tourism in the United States, gender equality and the employment of women in the tourism industry, and related topics on bias in tourism practices. The second part of the book looks at how discrimination within the tourism industry has affected specific groups of people. Among the topics covered are the social and physical difficulties experienced by tourists who are obese, the challenges encountered by disabled individuals in securing accessible tourism services, and the prejudiced attitudes and discrimination in tourism directed at individuals because of their sexual orientation.
Dr. Slocum offered her perspective on the importance of the book and explained, "While mobility and travel are often assumed to be a basic human right, the travel and tourism industry has historically privileged wealthy, white, able bodied, and mainstream populations."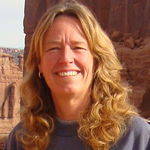 Dr. Sue Slocum
She continued, "Whether it is viewed from the physical challenges of long-haul travel (distance between airline gates or airplane seat size), to emotional challenges of outright exclusion of same-sex couples, immigration policies that place highly qualified immigrants of color into low paying hospitality jobs, or business practices that limit the opportunity of advancement for women, tourism has developed over the past 300 years with an institutional mindset that has limited opportunities for marginalized groups of people. In a post-pandemic world, it is important to understand these historical trends in an effort to critically examine how we can make travel accessible to all."
The book, published by Routledge (Taylor & Francis Group), is available for purchase in both hardback and as an e-book. It is also available for purchase at Amazon in hardcover and on Kindle.
For more information about Mason's degree offerings in Tourism and Events Management, please visit the website of the School of Sport, Recreation, and Tourism Management.