College of Education and Human Development
Lofty Goals
By Jerome Boettcher
David Verburg will be watching the opening ceremony of the Tokyo Olympics on Friday with a mixture of nostalgia and motivation.
Aside from the "crowning achievement" of winning a gold medal as a member of the 4x400-meter men's track and field relay team, the George Mason alumnus says his fondest memory of the 2016 Olympics in Rio de Janeiro was marching in with Team USA in the opening ceremony—a festivity he watched with bewilderment growing up.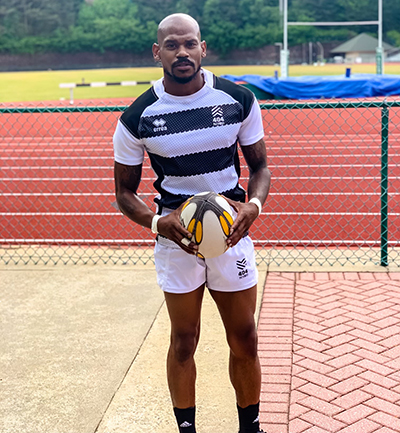 Former Mason track and field standout David Verburg
('13) is in his first season playing rugby for a
developmental team in Atlanta.
"It is a really cool feeling to watch on TV. Then to be in the parade, to have family and friends texting you, sending you pictures of you in that parade now… it is a really surreal moment," he said. "All those practices, missed opportunities, all that made sense right then. It was all worth something."
Verburg, 30, hopes to be back at the opening ceremony in three years for the 2024 Olympic Games in Paris. But this time he wants to represent the United States in a different sport—rugby.
"That's definitely in the back of my mind," he said. "To go to a different sport, come through the next cycle, make the team, and retire from athletics altogether at that point would be the perfect cap to my athletic career."
In 2019, after dealing with injuries and coaching changes, the sprinter retired from track and field. He closed the book on a decorated professional career that included six world championships in indoor and outdoor track and field. This came on the heels of a remarkable collegiate career at Mason in which he earned All-American honors 11 times, won seven Colonial Athletic Association (CAA) championships, and was twice named the CAA Male Athlete of the Year.
"I had done everything I wanted to do and I decided to stop before I hated it," he said. "But I was still fit, athletic, and still wanted to be competitive at a sport and potentially vie for a spot for the USA team. So I kind of stumbled upon rugby."
After moving to Atlanta from Florida in 2020, Verburg got the itch to compete again. Having played soccer and football in high school in Lynchburg, Va., he believed rugby was the "perfect combination" for his skillset. Though he admits he is still learning the rules of the popular international sport and adjusting to the physicality (especially without any pads), the mental strength he gained from running track at the highest level helped make the transition "seamless."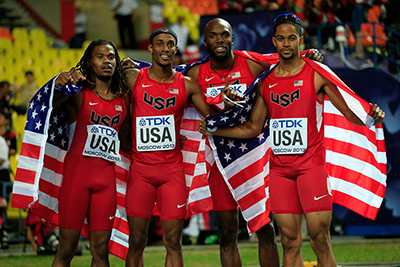 David Verburg, far left, with his 4x400-meter relay
teammates after winning gold at the 2013 World
Championships.
Earlier this spring, he latched on with Pathway 404, a developmental team in Atlanta for professional affiliate Rugby ATL of Major League Rugby. Verburg plays the speedy position of winger, whose primary purpose is to finish off attacks and score.
"I'm loving it," he said. "It's organized chaos. It's like playing schoolyard football but for real. You're tossing the ball, you're kicking it, running, chasing, tackling. You're just having fun. It's like recess for adults."
Last month he was invited to a combine to be evaluated by coaches and scouts for Tiger Rugby at IMG Academy in Florida, where he ran the 40-yard dash in an impressive 4.26 seconds. By the end of the summer, he hopes to sign a contract with a professional rugby team.
"I'm just trying to take as many opportunities as possible right now, getting my name into the sport," Verburg said. "I'm a fresh face. Just trying to get touches, opportunities, and make the most out of it."
Maximizing his opportunities extends beyond the track for Verburg, who graduated from Mason in 2013 with his bachelor of science degree in sport management from the College of Education and Human Development.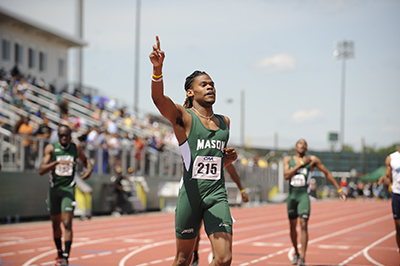 David Verburg was a 11-time All-American sprinter at
Mason.
He currently holds sponsorships with Diadora, an Italian sportswear company, and luxury watch brand Philip Stein. He turned vegan four years ago and serves as an ambassador for Miyoko's Creamery, a vegan dairy company. About his lifestyle change Verburg said, "I realized I felt great… I just ran a 4.2 40 [4.2 second 40-yard dash], as strong and fast as I have ever been, and I eat plants."
In addition, he created two non-profit organizations. He founded Healthy Kidz Club ATL with his sister, Dr. Andrea Hill, a pediatrician in Atlanta. The organization promotes healthy lifestyles for children in Atlanta by providing nutritional classes and workouts twice a week.
He also started the Golden Tortoise Foundation, an animal rescue foundation that focuses on finding homes for turtles and tortoises and placing turtle crossing signs in heavily congested areas. The organization came to a fruition after Verburg sprinted out into an intersection to help a turtle out of traffic in Florida. The moment was caught on video, drew global attention, and even led to an appearance on the Ellen DeGeneres Show in 2018.
"He is a great example of a young man who is able to take advantage of his education and the skills he built up at Mason," Sport Management Associate Professor Craig Esherick said. "All these activities outside of the rugby field and the track are opportunities for him to establish a career once he finishes his athletic career."
The Sport Management program impacted Verburg's career in ways he couldn't have imagined. Building relationships with Esherick and other faculty with professional experience in the media helped him later as a professional athlete in how to act in interviews and on social media. He also still utilizes business plans and marketing strategies he learned in college, especially when dealing with businesses and sponsors.
"I am building my personal brand and that really all started with Mason," he said. "They gave me the starters and I was able to fine tune it to my specific needs. Mason helped me out because it was a smaller school, but it had big reach."