College of Education and Human Development
George Mason's Hutchison Honored by International Literacy Association
Newark, Del. — The International Literacy Association (ILA) has announced George Mason Associate Professor Amy Hutchison as the 2020 recipient of the Erwin Zolt Digital Literacy Game Changer Award.
This distinction is presented annually to ILA members who have made significant, enduring, and positive contributions to online literacy education. Hutchison was recognized for her research on digital literacy, creating educational innovation with digital technologies, and providing equitable learning opportunities for students through the use of digital technologies.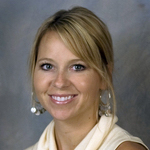 Amy Hutchison
Hutchison has been an associate professor in the literacy program of the College of Education and Human Development since 2016 and is currently the director of the Division of Elementary, Literacy, and Secondary Education.
"This recognition is so richly deserved," CEHD Interim Dean Robert Baker said. "Amy's extraordinary impact is felt both internally on the literacy program and her students and externally on her discipline."
Hutchison was one of 20 individuals honored earlier this month during a digital ceremony. The annual ILA awards and grants program recognize professors, researchers, educators, advocates and other literacy leaders who are driving positive change in literacy education.
"These awards mark significant contributions made by esteemed veterans of the field and emerging leaders alike," said ILA Executive Director Marcie Craig Post. "Their work—touching on issues of social justice, reading and writing interventions and bilingualism and biliteracy, among others—clearly reflects the needs of our literacy landscape. As we forge a path forward during these challenging times, we can say with certainty that the future of the field is bright thanks to the work of our recipients, who share in our mission of equitable literacy instruction for all."
About the International Literacy Association
The International Literacy Association (ILA) is a global advocacy and membership organization dedicated to advancing literacy for all through its network of more than 300,000 literacy educators, researchers and experts across 128 countries. With over 60 years of experience, ILA has set the standard for how literacy is defined, taught and evaluated. ILA's Standards for the Preparation of Literacy Professionals 2017 provides an evidence-based benchmark for the development and evaluation of literacy professional preparation programs. ILA collaborates with partners across the world to develop, gather and disseminate high-quality resources, best practices and cutting-edge research to empower educators, inspire students and inform policymakers. ILA publishes The Reading Teacher, Journal of Adolescent & Adult Literacy and Reading Research Quarterly, which are peer reviewed and edited by leaders in the field. For more information, visit literacyworldwide.org.