College of Education and Human Development
Faculty in School of Education selected for prestigious NSF award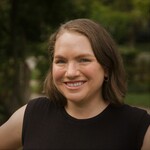 Samantha Viano
Samantha Viano
, assistant professor in the
Education Leadership
program in George Mason University's
School of Education
, was recently awarded a prestigious CAREER grant from the National Science Foundation (NSF).
The NSF Faculty Early Career Development (CAREER) Program grant is described as one of NSF's most prestigious awards given in support of early-career faculty who have the potential to serve as academic role models in research and education and to lead advances in the mission of their department or organization. NSF states that activities pursued by early-career faculty should build a firm foundation for a lifetime of leadership in integrating education and research.
As the principal investigator, Viano will address online credit recovery (OCR), a topic that was the subject of her dissertation for which she received a National Academy of Education/Spencer Foundation Dissertation Fellowship. Online credit recovery allows students who fail a course to retake it online to earn course credit to graduate. Viano notes that over the last 20 years, students have increasingly retaken their failed courses online. She adds, however, there are significant concerns that online credit recovery may be detrimental to student learning and may only serve to push students to graduate without learning course content.
In a summary of her research proposal submitted to NSF, Viano points out that the data on student performance in online credit recovery courses compared with traditional face-to-face (F2F) credit recovery is mixed. She writes, "Correlational studies suggest OCR leads to higher graduation rates, particularly for minoritized students, but lower STEM test scores, postsecondary enrollment, and earnings compared to students in F2F credit recovery. Conversely, studies that randomly assign students to F2F/OCR Algebra I find few differences in course completion, learning, and downstream outcomes when variables like student to teacher ratios and classroom seat time are kept constant."
Viano's research will analyze approaches to online credit recovery and face-to-face credit recovery for STEM courses across 14 high schools located in a large, diverse school district. Her study will focus on STEM learning outcomes, particularly for minoritized students, and examine broader trends in OCR policy through a nationally representative survey of school leaders.
In her comments upon being selected for the NSF CAREER award, Viano stated, "I am interested in how schools structure opportunity around credit recovery to understand whether students are being pushed through high school or being assigned to online courses in a personalized manner. This CAREER grant will allow me to better understand school-level policies on credit recovery."
Please join us in congratulating Samantha Viano for her outstanding work and contributions in Education Leadership reflected in her receipt of the prestigious NSF CAREER award. For information on Mason's Education Leadership program, please visit the program website.