Planned Gifts
George Mason University is located in one of the most important political and economic hubs in the world. As we prepare the leaders and innovators of tomorrow, Mason's influence will spread far beyond our campus. To ensure a bold, progressive education for future generations of students, please consider including a gift to Mason in your estate plan. We can help you find a gift that matches your family's need and charitable goals.
Popular Ways to Give
Gifts That Pay You Income
Other Smart Ways to Give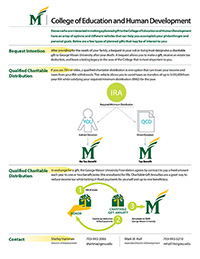 Click on the chart above for a detailed outline (PDF) of your planned giving options.
10 IRS Rules You Need to Know to Help Your Donors Make Great Gifts
10 IRS Rules You Need to Know to Help Your Donors Make Great Gifts
Transfer Appreciated Assets Between Spouses Prior to Creating a Charitable Gift Annuity
Federal tax laws allow assets to be transferred between spouses without triggering capital gain or transfer taxes. In some cases, it may be beneficial for assets to be transferred between spouses prior to establishing a split interest gift arrangement. For example, the capital gain due on a gift annuity is spread over the life expectancy of the donor. If one spouse in a married couple uses his separate appreciated assets to establish a 2-life gift annuity for both of them, his reportable capital gain will be spread ratably over his life expectancy. If both spouses jointly own the appreciated property, however, the reportable capital gains will be spread ratably over both lives. The result is that capital gain is spread out over more years.
Related Use Rule for Gifts of Tangible Property
In addition to cash, securities, and real estate, some individuals prefer to make charitable gifts of tangible personal property. Such property consists of physical items such as jewelry, artwork, collections, and antiques. The income tax charitable deduction for a gift of tangible personal property is typically limited to the cost basis, the amount the donor paid for the property. But if the charity puts the property to a use that is related to the organization's charitable purposes, the deduction may be for the full fair market value generally documented in a qualified independent appraisal.
Tax-Free Portion of Gift Annuity Payments with Low IRS Discount Rates
In the current atmosphere of historically low IRS discount rates, we hear a lot about the negative effect on the charitable deductions for gift annuities. While this is true and not likely to change in the near future, there is a flip side to the bad news; the tax-free portions of gift annuity payments are higher when the discount rate is low. This can be especially attractive to non-itemizers and donors with low AGI who have more deductions than they can use.
Additions May Be Made to Charitable Remainder Unitrusts
In contrast to charitable gift annuities and charitable remainder annuity trusts, it is possible for donors to make additional contributions to charitable remainder unitrusts. This might be especially helpful to donors who wish to build up significant values in their trusts incrementally over the long run. Donors with a low AGI may want to space out their gifts so they can take the full income tax charitable deduction in the year of the gift.
Bargain Sales and Capital Gains
One of the appealing aspects of bargain sale arrangements is that donors can escape the consequences of a portion of the long-term capital gains in addition to receiving a charitable income tax deduction. A bargain sale is the sale of property to the charity for less than fair market value. The net effect is that the bargain sale includes the gift of a portion of the property. Bargain sale properties typically have significant long-term appreciation; the proportion of the capital gains attributed to the charitable gift portion of the property is permanently forgiven, and the donor pays taxes only on the portion of the property that is sold. The charitable income tax deduction for the gift portion of the bargain sale offsets (at least partially) the tax on the reportable capital gains.
Retained Life Estates With Low IRS Discount Rates
The retained life estate is a split interest gift of the donor's home or farm, and as such, there is a charitable portion and a non-charitable portion. The value of the charity's eventual right to sell or use the property is the charitable portion, while the value of the donor's life tenancy is the non-charitable portion. When one goes up, the other goes down. The value of each year's life tenancy is computed in part by using the IRS discount rate. If the discount rate is low, the value of the life tenancy is low, therefore, the value of the charitable portion is high.
CRAT Special Rule from 2016
Charitable remainder annuity trusts must pass a minimum 10% charitable interest test, like charitable gift annuities, pooled income funds, and charitable remainder unitrusts. But the CRAT must pass an additional probability of exhaustion test (probability of corpus exhaustion may not be greater than 5.0%). Depending on the ages of the beneficiaries, it can be difficult for CRATs to pass the probability of exhaustion test when the IRS discount rate is relatively low. A ruling was issued in 2016 allowing the insertion of a special clause in the governing documents of new CRATs; the provision calls for the trust to terminate in favor of the charity if the trust corpus falls below 10% of its initial value plus 0.8% interest.
Deductions Are High for PIF Contributions Right Now
The charitable income tax deduction for a contribution to a pooled income fund is based partly on the highest "PIF Rate of Return" of the past 3 calendar year (the so-called PIF Rate of Return is really just a slightly-adjusted measure of income yield). When the "PIF rates of return" are relatively low, that means the calculation assumes very little income will go to the income beneficiaries, suggesting that relatively more will be left for the remainder charities in the end. While the deductions for PIF contributions are not tied directly to the IRS discount rate, the "PIF Rate of Return" tends to move in parallel with the prevailing IRS discount rates.
Relinquishing Split Interest Gifts
Life income gift arrangements (CGAs, CRTs, and PIFs) are mostly written for the remaining lives of named beneficiaries. If a beneficiary of one of these gift vehicles no longer needs or wants the income, he or she may permanently relinquish the life income benefit in favor of the charitable remainder organization. The same action may be taken with a retained life estate. This essentially accelerates the remainder gifts to charities, but the beneficiary or life tenant is giving up something of value; he or she may be entitled to an additional income tax charitable deduction for the additional gift to charity. Qualified appraisals are required if the value of the interest being relinquished is more than $5,000.
QCDs Also Still Attractive
No current discussion of planned gifts would be complete without mentioning the ubiquitous Qualified Charitable Distributions (QCDs) from traditional IRAs. The so-called "IRA Rollover" allows persons who are 70 ½ years or older to transfer up to $100,000 each calendar year directly from traditional IRAs to qualified charitable organizations. There are no charitable income tax deductions for these gifts. Nonetheless a donor may choose to make a QCD because they will escape taxation that would otherwise be due on distributions of qualified retirement funds. This is especially attractive for non-itemizers and others who cannot derive any benefit from additional income tax charitable tax deductions.
Q&A with Mason's Director of Planned Giving David Long
Q&A with Mason's Director of Planned Giving David Long
George Mason Director of Planned Giving David Long recently answered questions from alumni and friends of the College of Education and Human Development about planned giving and estate plans that can benefit the college. What follows is just a gloss of the many possibilities. Your CEHD Alumni and Advancement Team are available to create personalized illustrations of the impact of every planned giving vehicle available but it all begins with a confidential conversation about the legacy you want to create at Mason.
What is Planned Giving? Does this mean leaving money in my will for George Mason?
Good first question! I like to think of it as "gift planning." It refers to taking a big picture approach to interests, assets, needs, and timing relative to making a gift to Mason. It may involve making a bequest; but, it can also involve looking at other vehicles to maximize tax benefits, income needs, protection for your family members, etc., in the context of ultimately helping Mason's students and faculty.
I've heard about Charitable Gift Annuities but I've always been told that annuities are not the best investment because you can earn more money in the market. Why do Charitable Gift Annuities make sense?
Charitable Gift Annuities are simple contracts between a donor and the George Mason University Foundation in which the Foundation commits its entire resource base to the provision of a fixed income to income beneficiaries for the remainder of their lives. It is essentially a guaranteed life income inasmuch as GMUF would have to cease to exist for the income recipient to not receive their distributions. CGAs are a way to lock-in investment value now and avoid capital gains on the transfer so that you can put the full market value of your assets for income generation. Income is based on the life expectancy of the beneficiaries at the time the gift is made.
For example, my wife and I are both 64 years old. Over the years we purchased small amounts of stock on an annual basis such that the current fair market value of the assets is $100,000 with a cost basis of $33,000. In total they generate just under 1% in dividend income. If we transfer those shares to GMUF in a charitable gift annuity, the fixed pay-out rate is 3.8%. That $3,800 income can be paid in monthly, quarterly or annual installments. Effectively, we would triple our income and also receive a charitable income tax deduction equal to the present value of GMUF's future interest. In this example, the tax deduction is $16,790.
Mason has a computer program that can calculate these details quickly and accurately so that Advancement staff can help you tailor a gift of this sort to your unique circumstances. CGAs are simple, tax effective and help strengthen the University through the Foundation over the long haul.
Are there ways that I can use Planned Giving to pass assets to my family and avoid estate taxes?
Right now, it is possible to give about $11.4 million in assets to your children (during your lifetime or through your estate) with no gift taxes pertaining to the transfer. A married couple can convey $22.8 million. If you seek to aid Mason and convey assets to your children, an approach to consider is a Charitable Lead Trust. In this arrangement, the Foundation receives an income stream for a period time—usually 10-20 years—and then at end of the term the assets then held in trust are conveyed to your children at little or no tax cost to them at a time in their lives when they might be able to make the best use of those resources. Advancement staff can help you look at these possibilities—both pro and con--in conjunction with counsel from your legal and financial advisors.
If I am considering a bequest for Mason but I still want to make plans for my family, are there some assets that are better to give to my family and some that are better to give to Mason?
Another good question! Certain assets have particular advantages as gifts to charities based on how they are held. They are effectively removed from your estate before taxes are calculated. For example, IRA assets are excellent assets to bequeath to charity. In doing so, you will never have paid any taxes on the accrual of those assets. We can help you look at your asset base to determine which could generate the largest distributions to your children while also making a gift to GMUF.
Can I use my IRA to make a gift to Mason?
Yes. If you are 70 ½ you can make a gift of up to $100,000 annually of what would be your Required Minimum Distribution from an IRA. (Of course, you can give less, too!) In this case, you would not receive a charitable income tax deduction for the gift because you made your contributions to the IRA on a pre-tax basis. If you meet these criteria and don't need the income this is a painless way to help CEHD.
Given the changes in the tax law, how can I get a deduction by making a gift to Mason?
Tax laws change with some frequency—even for short periods of time—based on economic and political circumstances as dictated by acts of Congress. If you have any questions about the deductibility of any gift you might make or what the current tax benefits might be for making a gift of a particular asset, please do not hesitate to contact a member of Mason's Advancement Staff. Too, Mason's planned giving website is an excellent source of up-to-date information. Right now, gifts of cash are deductible up to 60% of your adjusted gross income (AGI) and gifts of appreciated assets up to 30%. Any excess amount you cannot absorb in the current tax year can be carried over into the next five tax years. As outlined above, in some arrangements, donors do not relinquish all rights to the assets conveyed. For example, they retain an income interest. In those cases, the amount of the tax deduction is not the value of the assets transferred. Rather, it is the present value of the Foundation's future interest, to be calculated by the Foundation and verified by your advisors. However, the same deductibility rules apply—60% of AGI for cash and 30% of AGI for appreciated assets.
If I want to leave Mason in my estate plans what does this entail? Do I need an attorney?
We do recommend that you work with an attorney to write your will. If the document is complex involving trusts and/or assets held with others, GMUF's legal counsel can aid in this process as relates to charitable components. However, in most situations it is quite easy to name Mason as a charitable beneficiary of your estate. Your attorney would use the following language:
I hereby give, devise, and bequeath to The George Mason University Foundation, Fairfax, Virginia, the sum of $_______________ for the following purpose: ________________________________________ Or . . . _____ percentage of my estate for __________________."
I have heard people talk about trusts – living trusts, charitable trusts, family trusts. Are these all the same thing and what do they mean?
They are all trusts—legally—but they are developed according to different laws based on what you as the "grantor" of the trust seek to accomplish. Living trusts are like wills inasmuch as they are revocable. They dictate how your assets are to be managed during your lifetime and beyond for the benefit of others. Living trusts have a great advantage in that they by-pass probate. Probate can significantly delay distribution of your assets to your family after you die. Charitable Remainder Trusts are irrevocable. As grantor, you are completely in the driver's seat in this income-generation vehicle. You pick the trustee, the pay-out rate (at least 5%), determine whether the distributions are fixed or variable, who receives the income distributions and which charity or charities benefit when the remainder is ultimately distributed upon your death. As such, CRTs are amazing estate planning tools and can be adapted to your unique circumstances. Family trusts are established to benefit family members, typically beyond one generation. Establishing a trust should be considered in conjunction with good legal and financial advice, and Mason's staff can work with your advisors to look at which possibilities make sense for you.
Can I donate stocks, bonds or mutual funds and is there a benefit in making a gift that way?
Appreciated assets such as stocks are superb assets to use in making a gift primarily because you avoid capital gains tax altogether when you transfer those assets directly to the Foundation. Advancement staff can give you the instruction on how to affect such a gift. Unfortunately, if you sell the stock and remit cash to GMUF, you will be liable for capital gains tax on the transfer. Something to bear in mind, though, is that capital gains tax is low for many people (15%) and the deductibility of cash (60% of AGI) is double that of appreciated assets. So, once again, Mason's staff can help you evaluate which is best for unique circumstance.
I have heard about making a gift of life insurance. How does that work?
Many people forget that whole life insurance is an asset with a face value and a cash surrender value. Insurance is essentially financial protection. If you have a fully paid up whole life policy and no longer need the protection it affords, you can name GMUF both owner and beneficiary of that policy. You will receive gift credit for the full face of your gift, and a charitable income tax deduction for the cash surrender value. Term life insurance can also be used for gift purposes. GMUF can be named as contingent beneficiary of work-related life insurance—for example—should you and your spouse die concurrently or should your spouse pre-decease you. No tax deduction accrues to this gift; but, it would be removed from your taxable estate therefore lowering it for the purposes of calculating estate tax. Life insurance can also be used for wealth replacement purposes. If you give to GMUF a sizable portion of your estate in an income-retained gift using assets that would have normally gone to your children, you can use a portion of your new income stream to purchase life insurance so that your children's inheritance will be protected.
If you would like to learn about making a planned gift to the College of Education and Human Development, contact Director of Alumni Relations and Advancement Shirley Hartman.
Contact Us

If you would like to make a gift to the College of Education and Human Development or if you have any questions, please contact:

Shirley Hartman, CFRE
Director of Advancement
shartma@gmu.edu
703-993-2005