College of Education and Human Development
Virtual Celebration
By Greg Sullivan
When graduating students in the College of Education and Human Development's Educational Psychology master's degree program got together virtually this month for their end-of-year capstone presentations, it was more than just completing one final requirement.
The event also fulfilled an important social function: it allowed them to see one another and gave their faculty, family, and friends an opportunity to celebrate their work one last time before graduation.
"It was really nice to see what everyone was doing and what they worked on," said Nicole Willingham, a graduating second-year student who kicked the two-hour event off with a capstone project on data literacy preparation by pre-service teachers.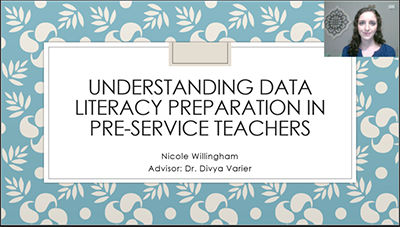 For Willingham, who'd worked five years as a teacher in public schools in Georgia and Maryland between college graduation and graduate school, the capstone project she worked on with faculty mentor Professor Divya Varier was the last degree requirement she had left when she started the spring semester of 2020.
Therefore, she wasn't coming to campus for in-person coursework this semester even before the COVID-19 pandemic moved all university classes to online. To say she missed her peers would be an understatement.
With capstone presentations being virtual this time around, there was no iced tea, coffee, and cake, like normal. But the program did the best they could to maintain some sense of normalcy.
"I've been to previous celebrations in other semesters," Willingham said. "This was a little different, but our faculty did a really good job to make it still feel like a celebration."
Students recorded videos about their projects, which were all posted to a university Blackboard site so participants could view peers' work prior to the presentation. Then, the night of the celebration, presenters each gave a brief overview of their projects, followed by group discussions.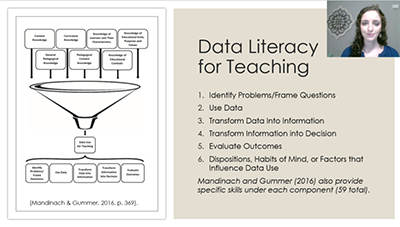 Family and friends virtually in attendance were among those who asked questions, too.
Professor Michelle Buehl, the academic program coordinator for the Educational Psychology program who served as moderator for the virtual event, said she and the rest of the faculty were very impressed with the students' work. Other capstones included evaluations of curricula, mentor programs, classroom engagement, learned helplessness, the power of feedback, rubrics, and a literary non-profit.
Eight students presented with six conducting oral presentations and two delivering poster presentations. Each presenter had three minutes to provide a brief overview and five-plus minutes to answer questions. A total of 25 people were on the call, including eight faculty and staff and Associate Dean Ellen Rodgers.
Buehl said the event went better than expected and was a great example of how the tight-knit graduate program was able to come together despite the pandemic.
"We wanted to do something for the sake of the students, and I was worried it wouldn't go as well as we hoped. But we wanted to do something," Buehl said. "It was really a group effort. I introduced the event and kept things flowing. Professor Holly Klee is really good with Blackboard, so she helped all the students get their files up and in the right position. I was asking questions faculty had given me in advance. Professor Varier monitored the chat boards, so she was able to raise additional questions and comments that came from the other attendees. It seemed to go really well."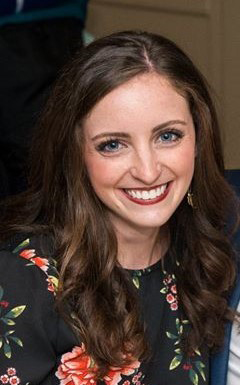 Doing sizable projects like these presented some unique challenges for students this semester.
Willingham said that she would have liked to visit instructors in their classrooms with school in session to ask them questions in person. "After the pandemic happened and everything moved online, I had to change what I wanted to do and do some virtual interviews over Skype," she said. "That way I could still see how people were reacting to some of my questions. My goal had been to do it in person so I would get a better response rate, but it was online. I didn't have as many people respond."
Willingham, whose master's concentration was in Assessment, Evaluation, and Testing, is looking to transition into a role as an assessment specialist or an instructional coach helping a university or school system's teachers use data after she graduates.
"My experience in the program was definitely a good one," she said. "I feel like I have a much broader range of knowledge than I did in the past that I can apply in a lot of different ways. I was really focusing on this capstone project, and now I'm excited to look and see what's next."
Buehl, meanwhile, said it was great to see the students again, even if it was virtually.
"I'm really sorry we're not all coming together again for graduation," Buehl said. "We all participated in a video for students as a way to show our support of the work they've done and especially how proud we are of the way they've come through this semester."