College of Education and Human Development
Transferrable Skills
By Greg Sullivan
It is not uncommon for educational psychology graduates of George Mason's College of Education and Human Development to find an ideal job outside the education sector where they can make good use of their skills.
Molly Owens, a Mason alum now working for Facebook in Chicago, may be the perfect example.
Her current role as a technical sourcer also makes her an expert on what prepares someone for landing an in-demand job with a top company.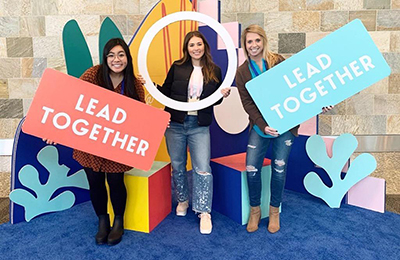 Owens has been very successful in the initial stages of her career. After graduating with her master's degree in educational psychology in 2015, she made stops in Chicago, Austin (working for Google), and is now back to the Windy City with Facebook, where she's transitioning to a related role as a technical recruiter, following a recent promotion.
"A technical sourcer is similar to a recruiter," said Owens, who completed her bachelor's degree from Mason in psychology as part of a five-year bachelor's/master's degree program. "We're given a certain profile of talent. For me, right now I'm looking for senior software engineers in the Bay Area or [someone] who will relocate to the Bay Area. I find the candidates and get them through most of the interview process, and one of my colleagues closes them at the end and talks compensation and start dates and other final details."
Owens, 27, is beginning to now shift her focus to closing out interviews as part of her position change.
She is also a leader on the learning and development side of things for Facebook's recruiters and a part of its new employee orientation team.
"I'm educating new people here at Facebook," Owens said. "Education is still very important to me. Being an educator on my team is still something I'm very into and was something I really grasped onto during my master's program."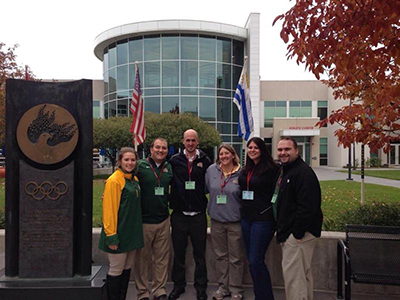 Owens said Mason's degree put her in the driver's seat for preparing for her eventual employment.
"The thing I loved about the Ed Psych program at Mason was you really had control over your own education," Owens said. "The fact that I did internships that all counted toward credit, and I was able to speak with some experience to all of the theories I was learning in class made a huge difference for me."
The Woodbridge High School graduate now gives career advice to her younger siblings and anyone from Mason who is interested in reaching out. Her own journey typifies the sort of transitions often common in the tech industry, and she credits Mason for helping equip her for the hustle.
While a student at Mason, Owens thought she would go into sports psychology. She interned two summers at IMG Academy in Florida. She also interned with the State Department, working with SportsUnited, a sport diplomacy program that partners with Mason's Center for Sport Management. In that role (which Owens said always seemed to pique the most interest in all of her own past job interviews), Owens worked as a liaison for coaches and athletes from all over the world.
When job seeking after graduation, Owens was looking to move someplace new, having spent most of her life in Northern Virginia. She had a few jobs in Chicago, one of which was as a recruiter, but neither job lasted. Owens had a friend who knew someone at Google. Her husband, Mark, worked remotely, so making a move to Austin was seamless and gave them a shot at trying something new.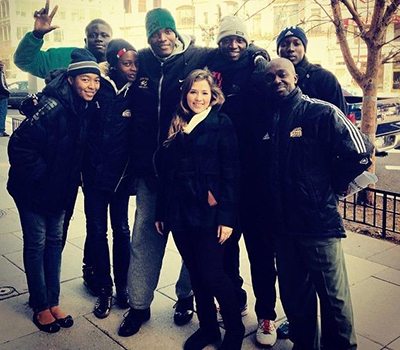 "At Google I worked on the Android sourcing team. I was looking specifically for android mobile software engineers," Owens said. "After a year in Austin, working as a contractor, Mark and I were thinking about if we wanted to get back to a bigger city, like Chicago again. Then, Facebook suddenly reached out about a job in Chicago.
"I was like, wow, this is a sign. Everything checked out. We moved back to Chicago a year and a half ago and we've been here since."
Owens, whose master's thesis at Mason was on motivation, said in her line of work, it's about finding the right fit.
"With interviewing, it's similar to a test," she said. "Being able to read interview feedback and dissect it like a test creator almost, it allows me to see if there's any bias in our interview feedback, and that translates to whether an interview is a good interviewer, or if the questions need to be recalibrated, or whether the interviewer need more practice."
When it comes to her time at Mason, one of Owens's professors agrees that it was easy to see that she was going places.
"Molly was a goal-oriented, self-motivated, and hard-working student ready to take up challenging tasks," said Education Psychology Professor Anastasia Kitsantas. "She was probably one of our most proactive students in acquiring knowledge and seeking opportunities to apply her knowledge in diverse educational contexts."
Now, Owens gets to help others go places, too.
"Being able to work at the biggest tech companies in the world like Google and Facebook, I feel like I have a huge impact," Owens said. "I'm changing peoples' lives every day. One of my favorite parts of my jobs is telling people they've got an offer for a job at Facebook. It's very humbling to talk to my candidates at the very end."