College of Education and Human Development
Right at Home
by Greg Sullivan
Tracey Phillips's journey in education has taken her far and, in a way, also not so far.
The new principal at Fairfax's James W. Robinson Secondary School, a graduate of Mason's Education Leadership program in the College of Education and Human Development, knew she wanted to go into special education and eventually become a principal. But she didn't think she'd one day wind up in the top job at the high school she attended growing up.
"I never in my wildest dreams imagined being the principal at Robinson when I started my teaching career in the late 90s," said Phillips, who was previously Robinson's associate principal. "My aspiration now is to make this school the best it can be."
So far, it's been a wonderful challenge leading her alma mater, she said.
Robinson is still a very large school, now serving around 3,600 students from grades 7 through 12. It's also regularly referred to as the largest International Baccalaureate (IB) school in the nation, Phillips said, with roughly one-third of its graduating classes earning the prestigious IB Diploma.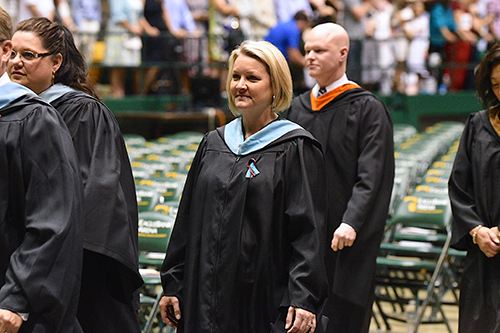 Tracey Phillips
"Robinson is a high-achieving school across the board," said Phillips, who in recent years served as an administrator at Robinson and Hayfield Secondary School before her promotion this summer. "We are becoming a more diverse school in terms of demographics and socioeconomic status, and while they say Northern Virginia is a very transient area, there are also a lot of families deeply rooted here. When you look at our test scores, we excel in all our areas, including for students with disabilities, students from minority backgrounds, and our English-language learner students."
After getting her start as a special education teacher after college, Phillips seemed, by fate, to be pulled back to Robinson and then into administration.
She was teaching special education at Fairfax County's Bonnie Brae Elementary School, but while there she started coaching the swim team at Robinson on the side.
"After coaching at Robinson and getting involved in the athletics program, I began teaching here, as well," Phillips said. "Then, I got involved in student government and different aspects of the school's life and working with administration and leadership while I was teaching."
Robinson's administrators at the time encouraged Phillips to go into administration. And like more than half of school administrators in Northern Virginia, taking that next career step brought her to Mason, where she completed a master's degree in education leadership.
As a swim coach, Phillips likes to joke that when she jumps into something, she jumps in with both feet.
"I completed my degree in one year at Mason, including the summer," she said. "I was a bit of an overachiever at my young age. I was 29 at the time. I wanted to move forward. I was coaching here, teaching here, I was doing student government, and I was taking classes at Mason at night.
"A lot of people liked going into the cohorts of the different programs, but I liked the evening courses that worked with my schedule. I was getting information firsthand as I was teaching and working in the school system. It helped me tremendously doing both at the same time."
In her first few months now as principal, Phillips said she's been working hard to ensure communication is strong at the school since the student body is so large. She's also working with students to get more student feedback on how the school can continue improving.
One of the more interesting aspects of Robinson is its thriving IB program. Nearly 200 students graduate from the IB Diploma Program each year, Phillips said, and the school last year added the IB Middle Years Program for grades 7 through 10.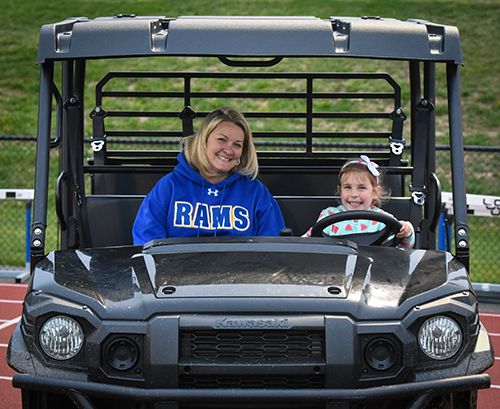 Tracey Phillips
Much like Mason's School of Education has benefitted tremendously from its relative proximity to the International Baccalaureate Organization's U.S. headquarters in nearby Bethesda, Maryland and offers IB-related instruction for teachers and future teachers, Phillips said her school also takes advantage of its location.
"We send a lot of our staff to different IB trainings, and we're able to do so because of the location and because it's less costly for us," Phillips said. "We've had teachers who have become very involved in the IB world, and I think those opportunities have opened up because of our local connections."
Phillips leads a school with an international scope but also one that's truly local for her. Her parents live in the school's neighborhood in the house she grew up in, and her sister also lives in the neighborhood. Phillips and her daughter Ellie, who's in kindergarten, recently moved back to the neighborhood earlier this year. Phillips said her daughter loves coming along with her to school events and that they each enjoy that time together with their school family.
"Of course, I'm invested in the community and passionate about it, but living in the neighborhood again has helped make it easier to be able to do both jobs—be a good mom and be a good principal," Phillips said. "It's posed its challenges, but I grew up in the same community and same schools, and now my daughter is doing the same. It's a great place."