College of Education and Human Development
Dr. Joel Martin, Associate Professor in Mason's School of Kinesiology, leads study on how dehydration negatively impacts Navy pilots during flight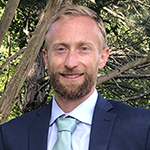 Dr. Joel Martin
Faculty and researchers at George Mason University's School of Kinesiology are studying the physical and cognitive effects of dehydration on Navy pilots. Mason Associate Professor Dr. Joel Martin is leading a study as principal investigator, which involves the testing of a prototype sensor that can provide real-time measurements of hydration status in human subjects. The long-term goal of this study is to develop a wireless, wearable sensor capable of alerting pilots when hydration levels drop and the abilities of the pilot may be compromised. Co-principal investigators of the Navy funded study include Mason School of Kinesiology faculty Dr. Shane Caswell and Dr. Marcie Fyock-Martin. The Mason study team also includes Ph.D. candidate Megan Sax van der Weyden and several students who are working on their master's degrees.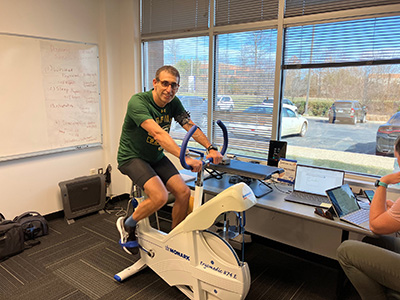 One of the challenges that Navy pilots encounter during flights is dehydration, which can lead to decrements in cognitive performance. The current design of flight suits and fighter jets makes it difficult, if not impossible, for pilots to eliminate liquid body waste produced during flights. Consequently, many pilots intentionally limit fluid intake prior to flights, which can last 6 to 8 hours or longer. This is not a desirable situation, as even mild dehydration (~2% bodyweight loss) has been shown to cause decreased cognitive and physical performance. For fighter pilots, any decrement to cognitive performance can adversely impact their reaction time, visual processing, and decision-making, which can lead to mission failure and fatalities.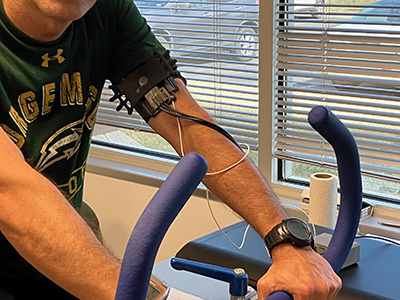 As part of the study, Mason researchers are inducing mild dehydration levels (2-3% bodyweight loss) over the course of 5 hours, followed by a 1-hour rehydration period to replace lost fluids. The human subjects participating in this study are engaged in active and sedentary activities over specific time intervals that include cycling on a stationary bike and sitting. Measurements of the liquid body waste composition, perceived thirst, and bodyweight are taken during this preliminary testing. The testing is being conducted at the Sports Medicine Assessment Research Testing (SMART) Laboratory on Mason's Science and Technology Campus. The developer of the prototype sensor, Intelligent Optical Systems, has been working with the Mason team to provide support on technical aspects of the device. In addition, an exercise physiologist recently visited the SMART Lab to observe the testing activities.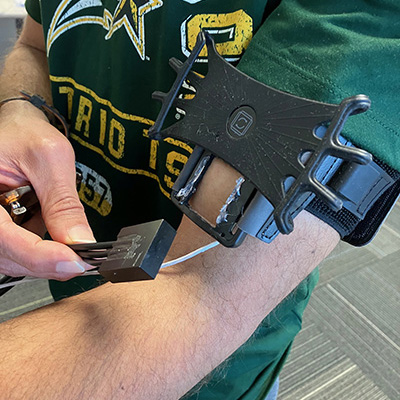 In the future, Mason researchers hope to incorporate similar physical and cognitive testing to determine the effects of dehydration and physical fatigue on the performance of military members who participate in ruck marches. A ruck march is a physically demanding and strenuous military activity, during which recruits are required to walk a significant distance at a brisk pace carrying a weighted rucksack. School of Kinesiology researchers also hope to expand this research to firefighters in field settings for whom dehydration is a concern due to the harsh environmental conditions in which they operate.