College of Education and Human Development
Mason Professor Dr. Erin Peters-Burton is editor of a book on the integration of STEM and entrepreneurship
Dr. Erin Peters-Burton, Professor in the Secondary Education 6-12 program in George Mason University's School of Education within the College of Education and Human Development (CEHD), is co-editor of a recently published book, "Enhancing Entrepreneural Mindsets Through STEM Education." The book brings together experts from STEM education and the formal discipline of entrepreneurship to explore the role of STEM in everyday life through an entrepreneurial lens and show how this integration can broaden STEM education practices.
The book features authors from schools of business, engineering, science, and education representing 10 different countries. The book contains four major sections as follows:
Entrepreneural Mindset of STEM Education in Theory
Example Practices for Fostering an Entrepreneurial STEM Mindset
Empirical Results of Enhancing an Entrepreneurial STEM Mindset
Assessment of Entreprenurial STEM Education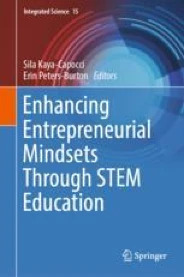 In the book, entrepreneurship is described in different fields with definitions ranging from a specific perspective such as starting a business to the broader concept of establishing processes for new social, economic, environmental, institutional, cultural and/or scientific environments. There has been some movement toward entrepreneurship in STEM education through hackathons and makerspaces, but these tend to be limited to informal settings.
The preface of the book notes that there seems to be a borderline between business schools and education departments. The book aims to remove those borders and help business schools develop their educational practices further while helping the Department of Education develop their knowledge of entrepreneurship from its formal discipline.
The book is available in both hard cover and eBook format and may be purchased from the publisher by clicking here.