College of Education and Human Development
Mason alum finds way to make sure low-income students don't go hungry
A science and special education teacher in Fairfax County is focused on raising awareness of the financial strain that the cost of student lunches and breakfasts can place on low-income families if they do not qualify for free or reduced meals under federal income eligibility guidelines. Gabe Segal, who recently received a Master of Education in Education Leadership from the George Mason University School of Education and who now teaches at Herndon Middle School, is putting this awareness into action by initiating a fundraising campaign to erase the student meal debt in his school incurred by students from families that are having difficulties making ends meet. To this end, Segal is working with community groups, colleagues, businesses, and Educate Fairfax, a nonprofit organization involved in fundraising and grant assistance in support of students, schools, and programs within Fairfax County Public Schools.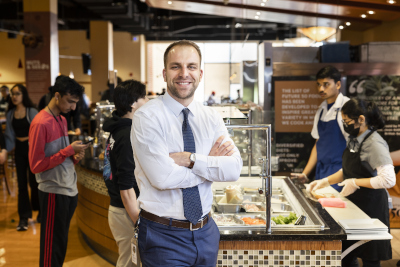 Gabe Segal
Segal's desire to support students in need and to give back to the Herndon Middle School community is driven by his concern for families that are still struggling with the negative economic impacts stemming from job loss sustained during the pandemic. Exacerbating this situation is the high rate of inflation that has fueled significant spikes in the cost of food, including school lunches and breakfasts. This scenario can be especially challenging for low- and moderate-income families. Student accounts for lunch debt can easily fall into arrears and Segal fears that some students from economically disadvantaged families who are not able to pay this debt will simply choose to go hungry.
This is not the first time that Segal has tackled the problem of student debt for school lunches. In 2020, Segal taught at Sleepy Hollow Elementary School in Falls Church, Virginia—a Title 1 school serving a community with significant economic need. When Covid was at its peak, Segal paid off the lunch debt of students at the school, many of whom were from low-income families grappling with difficult financial challenges as a result of the pandemic. Segal explained, "I saw first-hand what the families were going through when Covid hit because I was working at a Title 1 school. A lot of families were working two jobs a day and suddenly, they weren't working at all. So, kids weren't having all the meals. They were afraid to eat because they knew they didn't have the money. And kids are kids, they're not going to tell you that they can't get lunch because their parents didn't pay or didn't have the money for it."
Segal said he wanted to do something about the school lunch debt during Covid because he knew it would impact a lot of struggling families in a positive way. "I'm huge about relationships and I knew our elementary community very well," he explained. "I was in touch with a lot of the families, and I could tell right away that they had lost their jobs. They didn't know who to turn to. We as educators are one of the few people that are a reliable source, if not the only people for a lot of these families. We're like the middle person, the middleman between these families and the government. We're a trusted reliable source."
He noted that the situation that led him to act in 2020 is identical to the one he encountered at his current school. "In middle school," Segal stated, "it's the same thing. I see what these kids go through. I know their home life. I live in the community. And I just wanted to do it again, but this time try to get something done on top of it."
And that 'something' that Segal is referring to is his push to get universal free school meals throughout Virginia. This is something that has been made permanent in California and Maine and recently in Colorado as well. Other states including Massachusetts, Vermont, and Nevada have extended free school meals to students for the 2022-2023 school year as part of Covid relief. Segal met recently with legislative staff in Senator Mark Warner's office to discuss the importance of universal free school meals. In addition, he is meeting with Virginia state delegates, members of the Fairfax County Board of Supervisors, and members of the Fairfax County School Board in advocating for free school meals.
Segal believes that achieving universal free school meals in Virginia is "something we can do." He adds, "I'm right on the ground with these kids. I know what's going on. I know the impact it has as a teacher and it's about time we do something about it." Segal is working to build momentum and raise public awareness of the issue of student lunch debt and the hardship it can create for financially struggling families. "Most of the time I get calls from people who say, 'I never knew this was a problem.' They just had no idea this was a problem at all, and they're shocked," he emphasized.
Segal's efforts have been featured in the national and local media. Among these was an article that appeared in the Washington Post on February 11, 2023. He also spoke to DC News Now for an interview which may be accessed by clicking here. Segal's work is also the subject of an article that appeared in The Connection on January 25, 2023 and a piece that was published in the Fairfax County Times on June 26, 2020.
A dedicated link has been established for donations that will be used to pay school lunch debt at Herndon Middle School which may be accessed here.