College of Education and Human Development
Lessons from the Trenches
By Greg Sullivan
Professor Stephanie Dailey joined Mason's nationally renowned Counseling and Development faculty this academic year after serving for more than 15 years as a counselor educator, community mental health counselor, and clinical supervisor in Northern Virginia.
Most recently before coming to Mason, she taught nearby as an assistant professor of counseling at Hood College in Frederick, Maryland.
Dailey took a moment to reflect on her decision to come to Mason and discuss the research projects she is currently working on.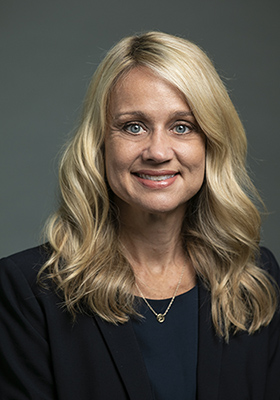 Stephanie Dailey
What led you to join the counseling faculty at Mason?
The Counseling and Development program has consistently provided the finest counselors not just in the state, but also nationally and internationally. While there are many reasons behind this success, one of the most notable influences is the intentional nature by which the program places multiculturalism and social justice at its core. This is in direct alignment with my own teaching style and values. Thus, being surrounded by colleagues who are genuinely committed to cultural competence and advocacy makes Mason a wonderful academic home.
Finally, the extensive opportunities to engage in meaningful, relevant, and timely research while surrounded by supportive and collaborative colleagues makes being a faculty member at Mason especially appealing.
The program is known for its focuses on social justice, multiculturalism, advocacy, leadership, and internationalism. Could you give an example of how one of these themes speaks to you and informs your research or teaching?
Counseling doesn't exist in a vacuum. Individual and community values and beliefs, salient sociopolitical issues, and relevant client concerns all need to be considered when working with others.
A great deal of my teaching, research, and leadership has focused on counseling ethics. The rise of conscience clause legislation in mental health treatment has opened the door for mental health professionals to have the option to refuse services to clients because of their personal beliefs, or "reasons of religion or conscience." This is in direct violation of the American Counseling Association Code of Ethics and has fueled my research in ethical decision-making, significantly changed how I teach ethics, and been the focus of my advocacy work.
I have worked on amicus briefings at the national level to oppose conscience clause legislation; provided numerous webinars, podcasts, and presentations on counselor/client values conflicts; and conduct research on ways in which counselors can better manage these complex issues.
You have a wide range of experience, both working in classrooms and in the field of counseling. Could you talk about how your background informs your work now?
I am a community mental health counselor at my core. I have spent over 15 years working in community-based settings, all non-profit, with adults diagnosed with severe and chronic mental illness often with a history of complex trauma. This work has led me to approach counseling, teaching, and clinical supervision at a very practical level.
Our work is pragmatic. Our clients have incredibly challenging stories and multifaceted life experiences. Clients, not counselors, are experts of their own life and experiences.
While I have extensive training and a clear approach for my work, I strive to let go of my own agenda—whether in the classroom or as a counselor—and strive to "listen" to those around me. This pragmatic approach is fueled by my desire to always remain teachable, never approaching my work as one who is all knowing. In my experience, being open to additional information and perspectives fuels my own professional growth, and being close-minded is detrimental to those I am trying to help.
Now that you're at Mason, are their projects or work you are particularly excited about, whether that's research, outreach, etc.?
My primary research focus over the last few years has investigated the emotional impact of lockdown as a disaster response protocol.
Currently, there are two projects I am excited about. The first is an investigation of the psychosocial impact of active shooter drills in school-based settings. Given the public narrative in recent years that active shooter drills in schools are leading to traumatic stress in students and teachers, it is essential that a solid evidence base is developed to inform school safety procedures. The second, also related to mass violence in schools, is an investigation of specific school safety procedures which will deter and mitigate active shooters and support a safer school community.
What advice would you give to current or prospective students in counseling at Mason?
The most important thing for students to remember is that becoming a counselor is a process. Simply gaining a rote understanding of the material will not provide you with the skills or awareness you need.
"Trusting the process" is something my professors used to tell me in graduate school. As the years go by, I have come to understand the value of this statement. So, my advice is to trust the process. Know this program is as much a journey of self-discovery as it is a basis for gaining the required knowledge and skills for the profession.