College of Education and Human Development
Molding America's Best
By Greg Sullivan
Mason alumnus Gustavo Osorio, a former standout track and field athlete for the Patriots, has continued to move at a swift pace from the moment he graduated.
After a successful track career at Mason, a pair of degrees with Mason's College of Education and Human Development (CEHD), internship assignments at top sites across the country, and later a strength and conditioning gig with the St. Louis Cardinals, the 29-year-old has wound up in a dream job in Chula Vista, California, working for the U.S. Olympic and Paralympic Committee as a strength and conditioning coach at its Elite Athlete Training Center.
There, he oversees the training of all the center's 32 Paralympic athletes and also works with its Olympic athletes. In addition to track and field athletes, the center also welcomes rugby, archery, and BMX biking athletes, as well as a variety of other top athletes who rotate through to train.
Osorio said an internship experience working at the Elite Athlete Training Center in the year after he finished his master's degree in educational psychology at Mason is where he first learned about and soon grew a strong appreciation for working with Paralympic athletics. If the opportunity to eventually return to the center full-time ever arose, he would seize the chance.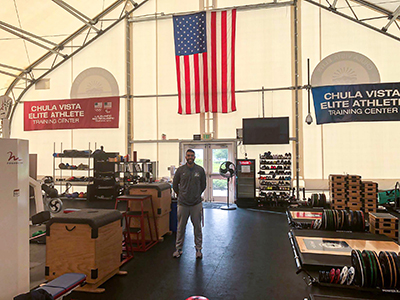 "I did three different internships that year in three different spots around the country. My last one was out here at the Training Center," said Osorio, a native of Woodbridge, Virginia. "I didn't know much about the Paralympic movement, but I liked it. I like the challenge it represents compared to training Olympic athletes.
"It's pretty humbling sometimes taking a step back and really thinking about what some of my athletes do. Whether it's breaking world records without having an arm or sprinting down a track without any sight while guided by another athlete, or a blade runner running fast without legs but with two blades."
Osorio was originally set to travel to Japan prior to this year's Paralympic Games in Tokyo (the Paralympics always follow the Olympics in the same host city). But that will now be delayed as both the Olympics and Paralympics were both recently rescheduled for 2021 due to the coronavirus pandemic.
Next summer, Osorio said sports fans should be sure to check out the Paralympic Games, not only to see many of his inspiring top athletes but to see the Americans continue their recent ascent on the Paralympic side of competition after a recent increase in dedication to those competitions.
"On the Olympic side, the U.S. is always a heavy favorite to win the medal count, sometimes by double digits," Osorio said. "On the Paralympic side, it's very interesting because we're not heavy favorites. Often, China, Great Britain, and Brazil will outperform us. Recently, the U.S. Olympic Committee made a commitment to really fund and build up the Paralympic side. They started by changing the name to the United States Olympic and Paralympic Committee and [adding] more funding and more staff, people like me. Getting more coaches and more resources to para-athletes out here and also at training centers in Lake Placid and Colorado Springs. We've been improving. It'll be interesting how we end up at the end of the day compared to Rio in 2016."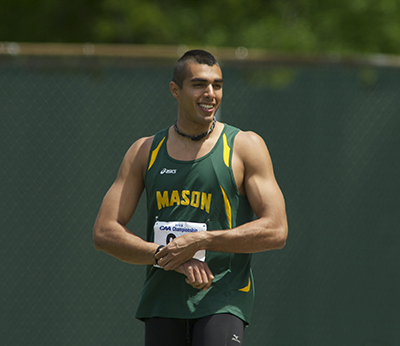 Among Osorio's early career milestones working with Paralympic athletes includes one of his athletes setting a world record. Deja Young, a Paralympic sprinter, set a new mark with a time of 11.92 seconds in the women's 100-meter T47 (classification) at last fall's World Para Athletics Championships in Dubai. Young was born with shoulder dystocia that caused limited mobility and nerve damage in her right shoulder.
Osorio knows a thing or two about records. He previously held Mason's school record for the heptathlon, a seven-event indoor track and field contest, and placed first in the outdoor decathlon (10 events) at the Colonial Athletic Conference Championships his junior and senior seasons with the Patriots.
"I did track and field for 11 years, and I still have a huge passion for it," Osorio said. "That knowledge, having been a multi-event athlete in track helps me relate to the athletes and made it a lot easier coming in."
So did his two degrees. Osorio completed his bachelor's degree in kinesiology at Mason in 2013 and finished his master's in 2015 while working as a graduate assistant for Mason Athletics.
"My kinesiology degree really set me up with the knowledge to understand the role of a strength and conditioning coach and a physical preparation coach," he said. "And my master's helped me learn to teach better and how to relate to people in the teaching process and how to troubleshoot. For para-athletes, since every athlete's situation is a little different, a lot of the training is trial and error since adaptive sports is still a relatively new field. With trial and error can come a lot of frustration, so we plan to work through that and help stagger learning so our athletes can achieve success in a safe way."
Following his master's degree and graduate assistantship with Mason Athletics, Osorio had an internship working with various athletes at the IMG Academy in Florida. Then, he interned at Clemson University, including with its powerhouse baseball program, and then at the academy where he is now.
That baseball experience at Clemson, plus his fluency in Spanish from living in a home with parents who grew up in El Salvador, helped him land his first job. He served as a bilingual strength and conditioning coach for Major League Baseball's St. Louis Cardinals, splitting time working with the club's players in the U.S. and the Dominican Republic.
While Osorio said he enjoyed the baseball job, the opportunity to come back to the Elite Athlete Training Center appealed to him. It meant not only that he could work in track and field again but that he'd be able to settle in one place again for a while, instead of splitting his time between two countries.
Now, almost two years into the job, he's found what he calls the perfect job for him.
"I've worked with the 2019 World Championships team. I've been fortunate enough to have one of my athletes set a world record for her event," Osorio said. "My immediate goals would be I want to help my athletes do as well as they can in Tokyo. I want to do my end of the work to make sure they're prepared to shine."