CIE Faculty build partnerships with Greek Scholars
Recent Developments in the Partnership between Mason and the Ionian University in Greece
Ionian University (Greece) and George Mason University (Virginia, USA) collaboratively offered a two-day virtual webinar bringing together doctoral students at both universities on October 19 and 20, 2023. The webinar was designed and facilitated by scholars in self-study research methodology and inter-cultural communication: Professors Courtney Baker, Laura Bitto, Ioannis Karras, and Anastasia Samaras. Unique to this webinar was the Intercultural Self-Study Research Method: communicating across cultural boundaries as critical friends; e.g., across countries, organizations, and various groups. This partnership generated from The International Academic Partnership Program (IAPP) with the Greek Ministry of Education and Religious Affairs and Fulbright Greece and the facilitators who served as delegates to the IAPP Pharos Summit, a high-level forum to amplify the strength of the U.S.-Greek higher education collaborations and partnerships.
Also, Anastasia P. Samaras, Professor Emeritus in Education of the College of Education and Human Development of George Mason University in Virginia, USA, presented the lecture entitled: "Innovative Pedagogical Inquiries: Using Self-Study Research to Inform Practice". The Teaching and Learning Support Center of the Ionian University offered the presentation: "KEDIMA Ionian University meets George Mason on Innovative Pedagogical Research". This was one of the ongoing initiatives of the Mason-Ionian collaboration seeded with the earlier support of CIE.
Anastasia P. Samaras, Professor of Education, had the honor to be a delegate at the Pharos Summit 2022- an initiative launched by the Greek Ministry of Education and Religious Affairs between Greek and USA universities to explore partnerships and internationalism. While in Greece, Samaras had the pleasure of reconnecting with some of the Fulbright Scholars she taught who had participated in the Greek Teacher Professional Development Project (GTPDP) in 2010. They were eight among the 19 students who came to Mason for a two month professional development experience made possible through a U.S. Department of State, Bureau of Educational and Cultural Affairs grant and the Fulbright Foundation of Greece (Sprague, D., Kitsantas, A., Fox, R. Ndura, E., Samaras, A. P., Shaklee, B., 2010-2011). For the last 12 years, they had kept in touch with Mason faculty and with each over.
Samaras, noticing the extraordinary and lasting impact of the GTPDP program for these Fulbright Scholars. asked them what they thought influenced them to stay so connected. They explained that although GTPDP was an intense learning, cultural, professional and personal experience, they bonded through their shared learning experiences, by working in critical friend teams on their action research self-study projects, and through their collective out-of-class and memorable experiences on the weekends. Upon their return to Greece what kept this experience alive for everyone was the ability to come together again and share and sustain the fond memories they had created. They have become friends and family; baptizing each other's children and taking vacations together.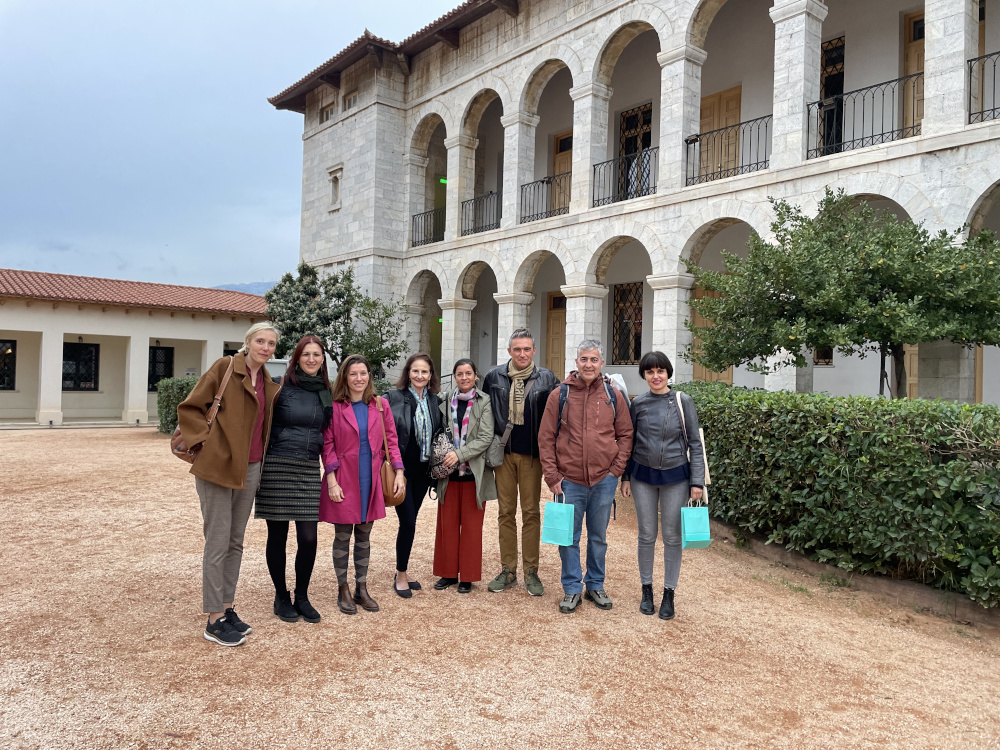 Giannis Moysidis, a participant and organizer of the group, sharing his experience indicated: "What the GTPDP offered us, regardless of everything else, was the unique opportunity to connect and bond with people we now call family. And we are very proud to feel that you are one of those people" he said to Samaras…. "Our connection with the people we met at George Mason remains strong and this is proof of the amazing work that was done by all of you in shaping a professional development program of the highest caliber. This program also offered us lifelong friendships with people in Greece and the US and this is something that we will always cherish. What made the program participants sustain their bonds and consider each other as family was also the impact of the program completion and their return to Greece."
Their bond was further strengthened as they continued to share the challenges they encountered in their schools and teaching and as they remained supportive of each other. Sophia Karalazarou, another GTPDP participant and organizer of the group, explained this: "What a great relief this has been for us to continue to belong to a circle of trusted friends who are there to provide us with their feedback and support. All these different lenses to look upon a situation and eventually collectively work to overcome it. Few teachers are this lucky during their teaching careers, to have longtime peers in work who will help them broaden their understanding for facing complicated issues that may arise in a school setting. Some 12 long years now, with lots of different placements this group has received around Greece and Greek schools abroad they have remained connected. …Sitting around the table with the team and having you among us felt so dear, as it brought back some very dear memories of our time and bonds among us all initiated during the GTPD program."