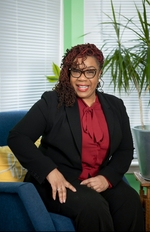 Dr. Joanne Frederick
(she/her/hers)
EdD, The George Washington University
Associate Professor
Counseling

Contact Information
Phone: 703-993-2087
Fax: This information is not available
Email: jleiva2 (@gmu.edu)
George Mason University
Fairfax Campus
Krug Hall 201B
4400 University Dr.
MS 1H1
Fairfax, VA 22030
Profile
Dr. Joanne Frederick is a Licensed Professional Counselor in the District of Columbia, and the states of Maryland and Virginia. As a National Certified Counselor, she specializes in treating people with anxiety, depression, relationship issues, terminal illnesses, and learning disabilities. She is the Author of "Copeology" the book which helps people deal with topics such as loss and grief, managing survivors' guilt, and the power of prayer, to name a few, from a spiritual combined with a psychological perspective.
She has been in the field of counseling for 29 years as a University Professor, a counselor in private practice, and the Co-founder/Executive Director of a non-profit that offers free to low-cost counseling services within a Baptist Church. She holds a Doctorate Degree in Education from the George Washington University in Rehabilitation Counseling, a Master's Degree in Counseling Psychology from the University of Baltimore and a Bachelor's degree in Psychology from Morgan State University.
As a Trinidadian-American, Born and raised in Brooklyn, New York, Dr. Frederick takes pride in advocating for mental health throughout all communities as she provides tips and coping mechanisms free-of-charge through her social media platforms such as "The Ask Doctor Joanne" show on YouTube. Known for her humor, storytelling, and her ability to transform tough conversations into healing, her work is featured in media outlets such as ABC channel 7, Allure beauty magazine, Forbes health, Today.com, Black News Channel, and The Grio, to name a few. A mother of 3, a member of Alpha Kappa Alpha Sorority, Inc. Her motto is "Let's Talk".
Courses Taught This Semester