ENGAGE Ambassadors - Apply Now!
ENGAGE Ambassadors - Apply Now!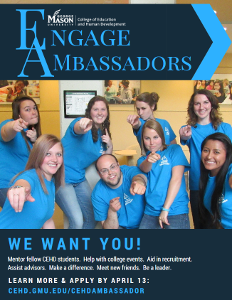 Job Description
ENGAGE Ambassadors (EAs) are visible leaders and advocates for the College of Education and Human Development (CEHD). They serve as role models to new and prospective students and service leaders to the College. The primary functions of an EA is to assist with the various functions during orientation, aid with on campus recruitment for CEHD programs, represent the student voice as advocates for peers by addressing concerns to CEHD administrators, and assist in the development and execution of engagement events. As representatives of CEHD, EAs are expected to be able to fulfill varying and diverse expectations throughout training, orientation sessions, recruitment events and other events assigned by the Office of Student and Academic Affairs (SAA). While serving as a mentor to new students, EAs are also responsible for communicating and upholding all responsibilities and policies of the role and university.
The minimum responsibilities and expectations for EAs include, but are not limited to:
General Responsibilities
Be aware of the programs and opportunities offered through CEHD
Identify innovative ways that CEHD administrators can better connect with, serve, and inform CEHD students
Engage with current and prospective student populations and support CEHD with orientation, recruitment, and engagement events
Keep SAA informed of the most pressing interests and concerns of CEHD students and actively participant in generating solutions
Develop new programs for students to promote wellness and service
Assist with marketing events and services (e.g., hanging posters, sharing social media posts, classroom outreach)
Expectations
Attend EA meetings, one (1) a month.
As a group, meet with college administration once a semester to comprehensively address problems on campus and generate solutions
Assist with minimally one (1) recruitment event per semester
Serve as a voice and advocate by maintaining consistent contact with the Office of Student and Academic Affairs
Support minimally two (2) CEHD engagement events per semester. (e.g. CEHD Welcome2Mason Event, Student Research Symposium, Writer's Retreats, Graduation Degree Celebrations)
As a group, plan one (1) Wellness event and (1) Community Service event per semester
Benefits
The benefits of being an ENGAGE Ambassador include, but are not limited to:
Meet new students and become an important part of their Mason experience
Network and build strong relationships with CEHD Faculty and Staff
Garner leadership and professional experience for your resume
ENGAGE Ambassador T-shirt
Early course registration
Collaborate with the Deans of the college
End of the year EA outing
Qualifications
The minimum qualifications for ENGAGE Ambassadors are:
Demonstrate pride for CEHD and Mason
GPA of 3.0 or greater
Good judicial standing
Demonstrate the ability to be reliable, responsible, and innovative
Demonstrate the ability to work and communicate effectively with a diverse group of people
Be available to attend a mandatory EA training. The training is tentatively set for Saturday, April 28 from 10am – 2pm.
Application
Complete the application to be considered for a position by Friday, April 13, 2018. After review, those selected will be invited to an in-person interview. Email Brandon Quiles, Student Engagement Coordinator, at bquiles@gmu.edu with further questions.
The 2017 - 2018 College of Education and Human Development ENGAGE Ambassadors are: