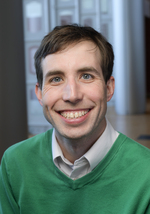 BS, Northwest Missouri State University


Strategic Communications Specialist, CEHD Administration

Contact Information
Phone: 703-993-6253
Fax: This information is not available
Email: jboettch (@gmu.edu)
George Mason University, Fairfax Campus
Thompson Hall 2108
4400 University Dr.
MS 2F1
Fairfax, VA 22030
Profile
Jerome Boettcher joined the staff of the College of Education and Human Development in April 2019 with more than 12 years of experience as a communication professional. He currently leads communication efforts for the entire College of Education and Human Development and its three schools: the School of Education, School of Kinesiology and School of Sport, Recreation, and Tourism Management. Charged with promoting college's 32 programs, Boettcher writes features and press releases and pitches story ideas to local and national media that relate to the college's students, alumni, faculty and staff. He also oversees all of the college's social media networks and creates copy for collateral used by development team to help in recruitment of giving from alumni and donors.
He is no stranger to George Mason as he spent three years in the athletic department as an assistant director for athletic communications. He served as the media relations/public relations contact for six sports teams, including women's basketball, men's soccer and track and field. For each of those teams, he oversaw the everyday media relations and communications efforts, which consisted of handling the social media accounts of each team, generating content internally and externally and pitching stories to local and national media.
Prior to arriving to Fairfax, he worked at Vanderbilt University in Nashville for more than two years in athletic communications, working with the women's lacrosse and women's soccer teams. In addition, he served as the editor and writer for the department's alumni magazine, which ran 10 times a year. Before switching over to public relations, Boettcher had more than six years of experience as a sports writer. He worked on daily and weekly newspapers in Nashville, St. Louis and Manhattan, Kan., covering high school, college and professional sports in addition to serving as a freelancer for the Associated Press. A native of St. Louis, Boettcher graduated from Northwest Missouri State University in 2006 with a bachelor's degree in journalism. He is currently finishing his master's degree at George Mason, pursuing a master's in communication with a concentration in strategic communication and public relations. He and his wife, Tracy, reside in Reston with their son Caleb (1).