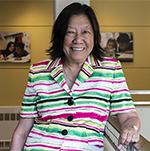 Contact Information
Phone: (703) 993-3513
Fax: (703) 993-5300
George Mason University
Fairfax Campus
Thompson Hall 1505
4400 University Dr.
MS 1E8
Fairfax, VA 22030
Curriculum Vitae
Profile
Dr. Shelley Wong is an Associate Professor at George Mason University in Multicultural/ESL/Bilingual Education. She began her teaching career in teaching English at a girls middle school in Hong Kong where she went as a Chinese American to study Cantonese and learn about her cultural roots over thirty years ago. Over the years has taught English as a Second language in adult school, high school, community college, university intensive English programs, and teacher education programs in California, Ohio, New York, and the Washington, D.C. metropolitan area. She has also taught ESL/Bilingual classes for community organizations, churches and trade unions. Before coming to George Mason, Shelley was an assistant professor at the University of Maryland, College Park and an associate professor in the Foreign/Second Language Education with a Specialization in Language, Literacy and Culture at the Ohio State University in Columbus, Ohio.
She received her BA in Sociology at the University of California at Santa Cruz (U.C.S.C.), her California teaching credentials, TESL certificate and MA in Teaching English as a Second Language from UCLA, and her Ed.D. in Applied Linguistics from Columbia Teachers College.
Shelley served on the Board of TESOL from 1996-1999, was Chair of the Teacher Education Interest Section and served on the Sociopolitical Concerns Committee of TESOL 2002-2005. She was the recipient of the TESOL Heinle and Heinle Excellence in Teaching Award, presented in 2003 at the TESOL Annual Convention, Baltimore, Md.
Research Interests
Dialogic approaches to teaching and research; sociocultural approaches to literacy, academic achievement for racial, cultural and language minority students, critical discourse analysis.
Educators perspectives on the Palestinian-Israeli conflict. Book talk: April 1, 2012, 9am Washington DC
Other Information
Favorite Links (each opens in a new window)
Anthropology and Education Class webpage - (coming soon)
Campus Affiliations
Teaching Culturally, Linguistically Diverse & Exceptional Learners